For the first time in almost five years, the Augusta University men's basketball team enters the new season with more questions than answers.
Dip Metress, entering his 20th season as head coach of the Jaguars, has led the program to three Peach Belt Conference Tournament championships over the past four seasons. Those titles earned the Jags a spot in the NCAA Division II Tournament, including a trip to the national title game in 2022.
In each of those seasons, Metress had 7-foot center Tyshaun Crawford, guards Tyree Myers, Miguel Arnold, Troy Cracknell and Darren Lucas-White carrying the load by contributing close to 80% of the team's scoring.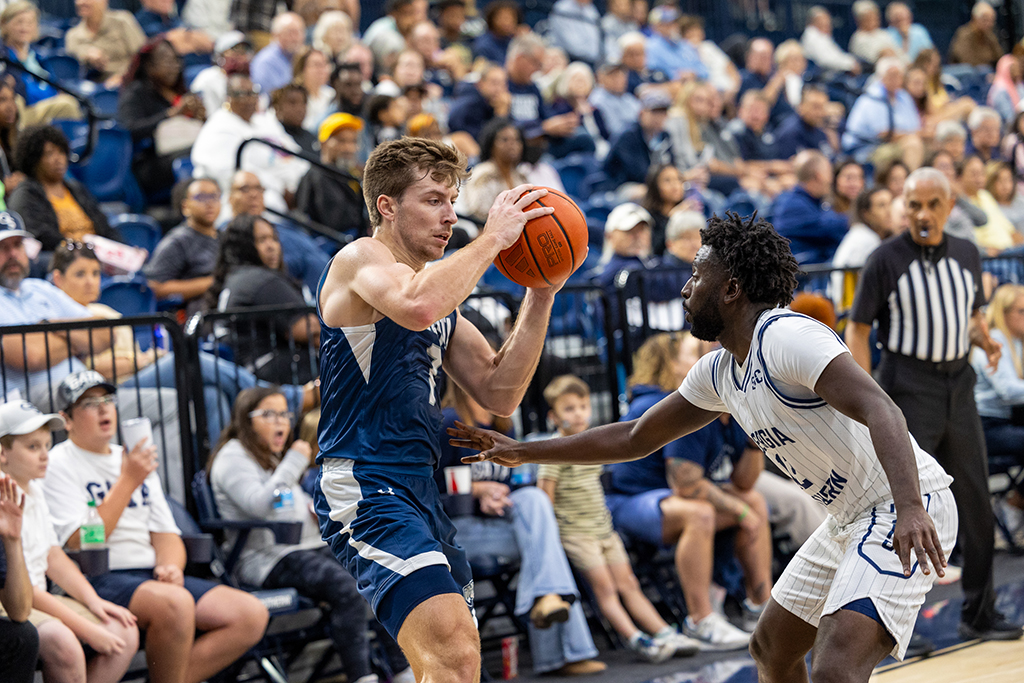 Entering the 2023-24 campaign, Metress has a new group of student-athletes learning their roles while returners David Viti, Timmy Sellers and Ja'Queze Kirby provide the leadership on the court.
"We have some big question marks," Metress said. "We've got some experience back with six players back, but their roles are completely different. They went from Robin to Batman now. It's a challenge to get the returning players to think differently and then add in the new players that we have."
Among the new Jaguars is 6-foot, 10-inch forward/center Maximillian Amadasun, a junior transfer who played with Division I St. Bonaventure last season, whom Metress expects to be a presence in the post while being a shot-blocking threat. Davion McAdam is also a junior transfer from Northwest College in Wyoming, whom Metress is expecting to contribute with his shot-making ability.
Metress expects the freshman class, comprised of Zyere Edwards, Isaiah Arnold, Kyndon Wilburg, Alex Hogg, Oliver Lucas and John St. Germain III, to earn playing time this season after the early practices were a big learning experience because of their youth.
The preseason DII men's rankings, released by College Basketball Nation, have the Jags ranked No. 10 to start the new campaign. Metress stressed that how well the team does will depend on how well the returning players thrive in their new roles.
"Timmy and David are seniors, and they're expected to be leaders. Timmy has said more in practice than he has in three years," Metress said. "David is going to be the emotional leader, and Kirby should be an all-league guy."
Not many people can replace a 7-footer like Crawford, but Metress is happy with what he's been getting out of Amadasun early on in practice – making his free throws, playing solid defense and being a presence near the basket.
In the Jaguars' 82-77 exhibition victory over Georgia Southern on Oct. 20, Amadasun played 31 minutes, scored 11 points, including one 3-pointer, with six rebounds and only one foul. The other starters also played over 30 minutes and scored in double digits. Metress said the squad was elated for the win over a Division I opponent but knows there is still plenty of work to be done.
"We hadn't been practicing well up until then so it was good to get the win. We only had one player that played in that game close a game for us last year, and that was Kirby. Everybody else was new in that role, so they got a chance to close a game with a win. We only played eight guys, and we need to play more as the season progresses, but it was good to get a win," Metress said.
The first 10 games of the season are non-conference games Metress hopes will prepare the team for conference play, which begins Jan. 3 at USC Beaufort. He acknowledges one of the biggest challenges his players will face is learning to adapt on the fly while being put in situations that they're not used to yet.
Six of the first 10 games will be at home in Christenberry Fieldhouse, where the Jags are 69-11 since the start of the 2018-19 season, including 35-3 the past two seasons. Metress knows how crucial that stat is.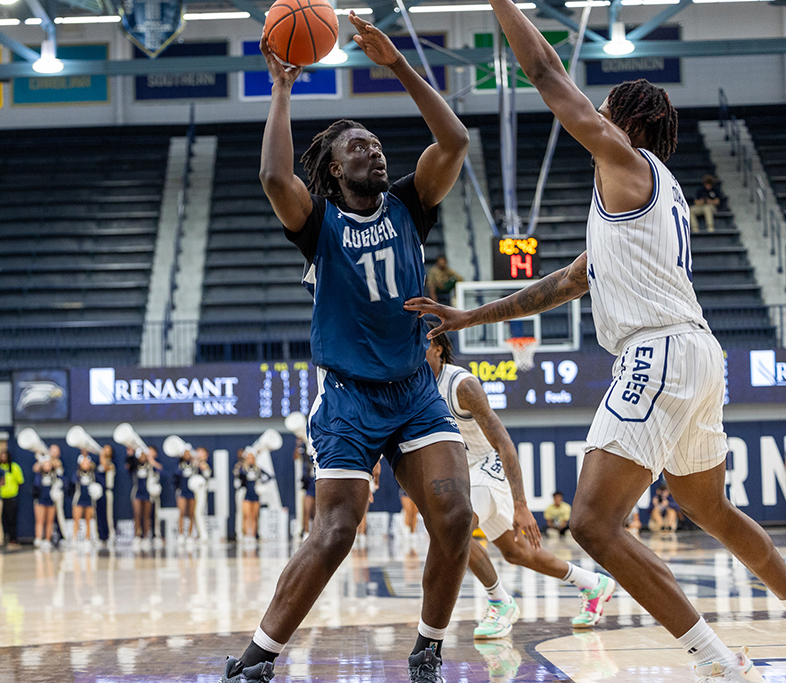 "If you're talking about winning your league, you have to win your home games and you have to win as many as you can on the road. That's a big part of those past three regular-season titles," he said. "I'm excited to have these young guys; I was worried early in preseason because they weren't responding right to certain things, but they've changed the more we've practiced. It's hard playing college basketball, but they've responded well."
View the men's 2023-24 basketball schedule