Celeste Stewart has been part of the Augusta University women's basketball program for five years. She has had a hand in the program's growth and turnaround, first as an assistant coach and now as the 10th head coach.
The Jaguars won only seven games during the 2018-19 season but have made steady improvements since then. Last year, Stewart stepped in as interim head coach following the departure of Millette Green and guided the team to their most wins since the 2015-16 campaign.
Now with a year under her belt, and the interim tag removed from her title, she's ready to get back to work with a squad that features plenty of experience with two graduate students, four seniors, five juniors and two sophomores compared to just two freshmen.
"Our team made the transition for me seamless because of their effort, energy, commitment, toughness and their ability to overcome adversity. They were bought in from the very beginning and they trusted the process," said Stewart, who guided the Jags to a 17-12 record and a spot in the Peach Belt Conference tournament. "Believing that we could do the unthinkable and continue to exceed expectations … the foundation of what we did was always consistent, so we're just honing in on what we want to do as a team."
Stewart said her team knew what they were capable of entering last season and knew they had to take that chance to make the leap. The experience and confidence they acquired will play a big part in what they accomplish this season.
Stewart will rely on graduate student Kennedi Manning, who enters her final year as a Jaguar, as the leader of the team. The 6-foot-1 center averaged 13.1 points and eight rebounds in 29 minutes per game last season while amassing 40 blocks. Stewart knows she can count on Manning's leadership, both on the court and in the locker room, to help pave the way for this team.
Stewart said she's getting creative with her ways of challenging Manning, who has been an all-conference player three times in her first four seasons. Stewart's main challenge is to be even more of a vocal leader on the court while continuing to push through those tough situational game moments.
"Being able to see the accomplishments she has made thus far on and off the court has been great. Also seeing the continued growth from our student-athletes from last season now going into our current season has been exciting. We look forward to competing and having fun while doing it."
Senior guard Tomiyah Alford will also be a key contributor along with fellow returning upperclassmen Mone Florence and Autumn Phillips, as well as forward Je'Bria Fullwood. All four saw plenty of playing time last season with Alford being named to the all-conference second team. Phillips and Florence combined to make 86% of the team's 3-pointers a season ago.
The upperclassmen will be joined by junior transfers Nyaneit Puok and Brianna Meekins. Puok led Lakes Community College in Iowa in rebounds last season, while Meekins averaged 14 points per game at the University of Bridgeport.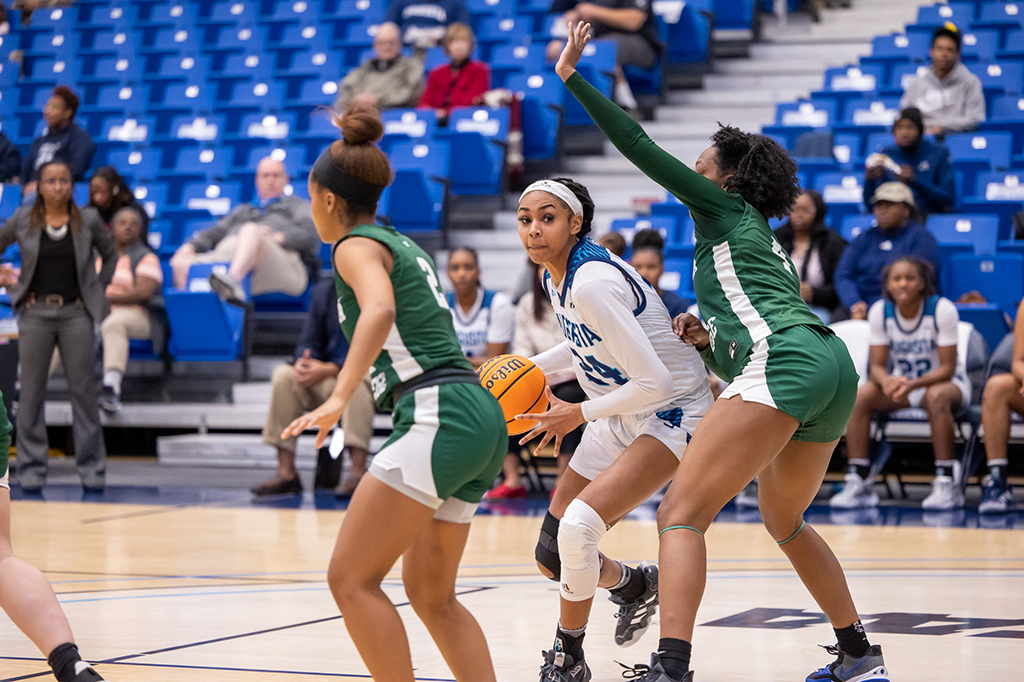 "Nyaneit can stretch the floor by being able to shoot the ball from the perimeter and has college playing experience, and Brianna is a forward that can make an impact in different ways on the floor, guard multiple positions, make basketball plays and cuts and not afraid of making the hustle plays."
Another transfer, graduate student Kalen Surles, comes to Augusta via Young Harris. Stewart is excited about her joining the program and will rely on her in-game and conference experience.
The Jaguars open the season in the Conference Challenge facing Barton College and North Greenville University as part of their 10 non-conference games before beginning their PBC schedule with USC Beaufort on Jan. 3.
"As long as we're working together and continue to grow as a team the other factors will take care of itself. The non-conference schedule will definitely prepare us for conference play. We are excited to have the opportunity to compete."
View the women's 2023-24 basketball schedule