For the fifth time since 2017, the Augusta University men's cross country team qualified for the NCAA national championship after finishing second at the NCAA Southeast Regional Championship on Nov. 4.
The meet, held on the University of North Georgia Cross Country Course in Oakwood, Georgia, featured 28 teams vying for three spots at nationals. Wingate University won the event followed by the Jaguars and Catawba College.
The Jaguars have sent a representative – either as a team or as an individual – to nationals for seven of the last 10 years. They will compete in the national meet in Joplin, Missouri, on Nov. 18.
Juniors Avery Jaynes and Brandon Martin paced the Jaguars with top 10 finishes in the men's 10K, placing ninth and 10th respectively. Junior Jordan Robertson finished 14th, while junior Thomas Rischar (21st), senior Carlos Rodriguez (22nd), junior Patrick Motes (26th) and junior Andrew Todd (30th) all secured top 30 finishes.
The women's cross country team wrapped up their season in Oakwood, finishing 10th out of 25 teams. Senior Cassie Lagan and sophomore Madison Kennedy finished 45th and 47th, respectively, to pace the Jaguars in the women's 6K run.
Wingate, Catawba and Flagler College were the top three qualifiers to reach nationals.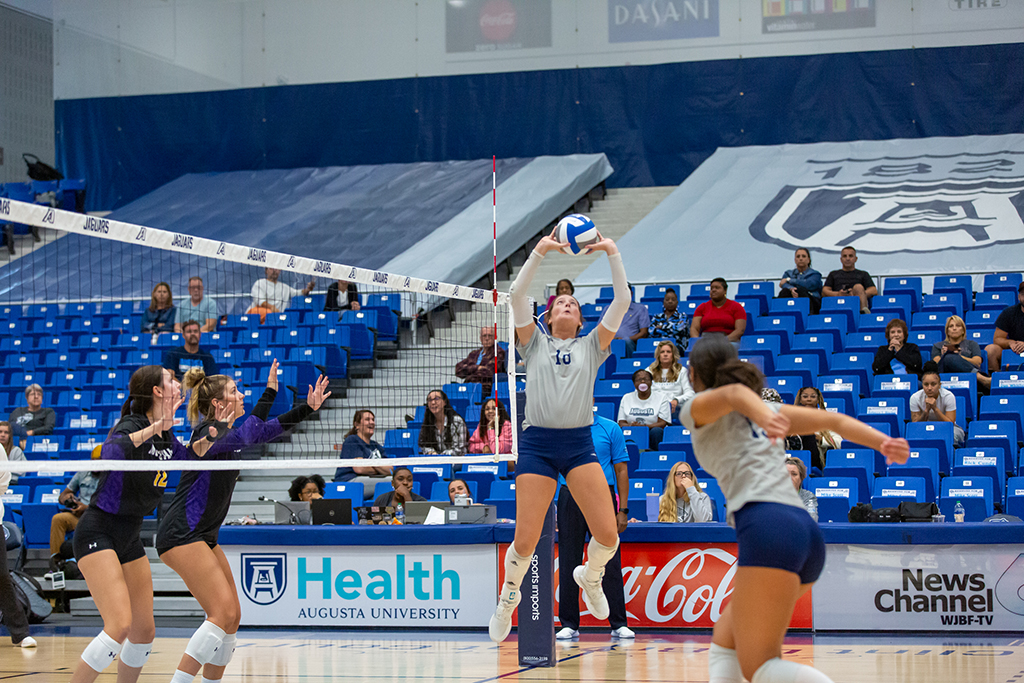 Volleyball to hold Senior Night
Augusta University's volleyball program will face Lander University at 6 p.m. Thursday, Nov. 9, at Christenberry Fieldhouse for a chance to secure at least a share of the Peach Belt Conference regular-season title. The match will also serve as Senior Night for the Jaguars.
The Jaguars (23-4, 9-1 PBC) are 9-1 at home this season with the one loss coming at the hands of the Bearcats (26-3, 10-0 PBC) on Oct. 7. AU enters the match having won its past nine matches, including six conference matchups.
The teams, which close out the regular season versus one another with the season finale at Greenwood, South Carolina, on Friday, Nov. 10, are among the leaders in most team statistical categories in the league, and the match will feature five of the top performers in kills and six of the top blockers in the PBC.
The seniors who will be recognized will be setter/defensive specialist Ally Thees, outside hitters Jordan Jerome and Jazmyn Wheeler, libero Dariana Luna, middle hitter Jada Suguturaga, middle blocker Madelyn Eden and setter Janvier Buggs.