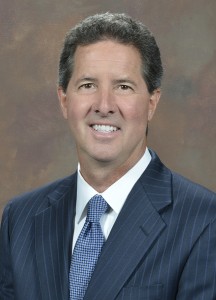 AUGUSTA, Ga. – Christopher J. Melcher has been named executive vice president for legal affairs and risk management, and general counsel for Georgia Regents University, Georgia Regents Health System and Georgia Regents Medical Center.
Melcher joined the organization in 2014 as vice president and general counsel for GRU.
In his expanded role, Melcher will oversee legal affairs for the university and health system. In addition, the Office of Compliance and Enterprise Risk Management will now administratively report to Melcher and the Office of Legal Affairs but continue to communicate directly with the president, CEO of the health system and senior executives on items related to compliance.
"Chris has been a valuable member of our team, and this new position takes full advantage of his expertise in higher education, risk management and health care law," said President Brooks A. Keel.
A unified structure that houses the organization's legal, compliance and risk management operations will more effectively leverage resources and expertise across various platforms, Keel said.
"I am confident that this collaboration will enhance both our legal and our compliance services for the benefit of our students, faculty, researchers, medical professionals and, of course, our patients," he said.
"I look forward to the opportunity to further the critical work of the university and the health system and to better support the leadership of President Keel and his vision for a vibrant and high-achieving academic, research and medical community," Melcher said. "This is a very exciting time to be in Augusta, and I am grateful for the opportunity to be part of the university and its leadership team."