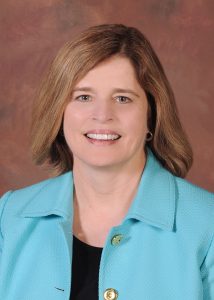 Betty Meehan, director of donor relations at Augusta University, has been named the institution's associate vice president for donor engagement and stewardship, effective June 1.
In her new role, Meehan will oversee the areas of donor engagement, communications, prospect management and research, and annual giving.
"Betty is an innovative and successful leader who brings nearly 30 years of experience in fundraising and strategic business partnerships to this position," said Deborah Vaughn, vice president for development at Augusta University. "I am grateful she will be leading our donor engagement efforts, and I am confident she will help AU secure the partnerships that are essential to ensuring our philanthropic success."
Prior to serving at AU, Meehan was the executive director of the Augusta Technical College Foundation, executive director of Walton Foundation for Independence, Inc. and assistant vice president for First Union National Bank of Georgia.
"Augusta University is a remarkable institution, and I am honored and excited to have the opportunity to serve in this capacity to help strengthen our university's vision through philanthropic support," said Meehan.
Meehan has been invited to share her fundraising expertise at various conferences and hosted the Southeastern Donor Relations Professionals conference at AU in 2017. She has also published articles on fundraising topics.
She is a member of several professional organizations, including the Association of Donor Relations Professionals and the Council for the Advancement and Support for Education. She is a founding member of Women in Philanthropy for the CSRA.
Meehan earned a bachelor's degree from Augusta University and earned a master's degree from Georgia Southern University. She has been certified as a professional fundraiser since 2000.