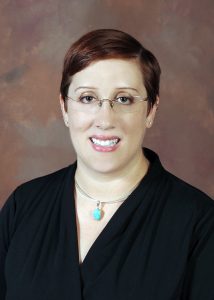 Dr. A.J. Kleinheksel, an educational researcher at the Medical College of Georgia at Augusta University, has earned advanced certification from the Society for Simulation in Healthcare.
The Certified Healthcare Simulation Educator – Advanced designation is held by only 52 people in the world and recognizes leaders in health care simulation who have proven themselves as advanced educators and serve as mentors and examples to others in the field. Kleinheksel is the only professional in Georgia to hold advanced certification.
Simulation education is a bridge between classroom learning and real-life clinical experience, according to the society. Complex simulation exercises rely on trained actors, computerized mannequins that perform dozens of human functions realistically and virtual environments that replicate a simulated health care setting like an operating room or critical care unit that is indistinguishable from the real thing.
Kleinheksel works with the MCG Educational Simulation team, which designs, develops and implements high-quality simulation activities specifically for medical students, residents and faculty.
"Dr. Kleinheksel is an integral part of our team and her expertise in simulation, specifically with regard to assessment, evaluation and scholarship, has helped build and advance the simulation program," says Dr. Matthew Tews, MCG's associate dean for educational simulation and director of the university's Medical Simulation Program. "This certification demonstrates not only her expertise in simulation across a broad range of areas, but also her commitment to advancing the simulation skills and academic development of all those who interact with her."
Kleinheksel came to MCG in 2017 from Shadow Health in Gainesville, Florida, where she was director of instructional design. As part of the medical school's Educational Innovation Institute, she conducts interdisciplinary research on the use of educational technology in health professions education, focused on simulation and how to assess skills such as clinical reasoning. She also designed and directs the medical school's new simulation elective, which offers students an opportunity to design and assess a simulation exercise for their classmates.
Kleinheksel earned her master's degree in educational leadership and her doctoral degree in curriculum and instruction with a major in educational technology, both from the University of Florida in Gainesville.
Simulation exercises at MCG take place at the Augusta University Interdisciplinary Simulation Center, the primary health care simulation resource for the university's health care training programs. The center serves nursing, medicine, allied health and dentistry faculty and students and offers the full spectrum of simulation services, including high fidelity simulation, standardized patients, skills labs and procedural training.