A Medical College of Georgia graduate and pediatric surgeon, who chairs the Department of Surgery, and the longtime administrator of Phoebe Putney Health System, home of MCG's first clinical campus, were honored Friday by Dr. Peter F. Buckley, Dean of MCG at Georgia Regents University.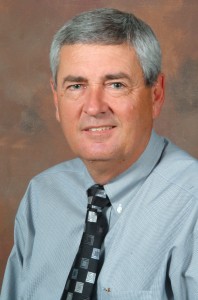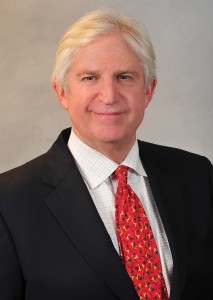 Dr. Charles G. Howell, a 1973 graduate and advocate for children and families who has served as Chief of the MCG Section of Pediatric Surgery for more than 20 years and Chairman since 2011, received the Professionalism Award during Buckley's May 1 State of the College Address. Joel Wernick, Phoebe's President and CEO for more than a quarter of a century, received the Dean's Community Advocate Award.
"Dr. Howell is an amazing advocate and consummate professional when it comes to the care of children and their families," Buckley said. "In his more than 30 years as a faculty member, he has never swayed for even an instant from his core belief that our youngest patients deserve the absolute best.
"This year, as we celebrate the 10th anniversary of our Southwest Campus, based at Phoebe Putney in Albany, it is absolutely appropriate that we also celebrate the contributions of Mr. Wernick, a visionary CEO, both in his community and in the larger community," Buckley said. "He, along with Phoebe's physicians and staff, provide exceptional support to our students, and to our efforts to educate the next generation of physicians for Georgia and beyond."
Howell helped plan and develop the Children's Hospital of Georgia, which opened in 1998. He designed the facility's operating rooms, and has served as Medical Director of Operative Services since the hospital opened. He is also Surgeon-in-Chief and Co-Medical Director of CHOG. Howell has co-directed the extracorporeal membrane oxygenation, or ECMO, program for children in respiratory failure at the children's hospital and helped found the program in 1985 as one of the first in the nation.  Howell helped advocate bringing a Ronald McDonald House to Augusta in the 1980s, and he and his wife, along with Braye and Tori Boardman, co-chaired the fundraising campaign for the new house, which opened just steps away from CHOG in January.
"At the dedication of the new Ronald McDonald House, Mr. Boardman lauded Dr. Howell for being such a tremendous role model and noted how his leadership on behalf of this home-away-from-home for the families of sick children had supported an unprecedented philanthropic support from our physician community," Buckley added. "Again, his commitment never stops. This weekend Dr. Howell and his wife. Debbie. are hosting the renewed Moretz Society, a gathering of MCG alumni surgeon leaders from across America in support of their alma mater."
Wernick is consistently ranked by Georgia Trend magazine among the 100 most influential Georgians.  The Arkansas native is on the board of VHA-Georgia and a former board member of VHA, Inc., a national network of not-for-profit health care organizations; the Georgia Alliance of Community Hospitals; and  the Georgia Chamber of Commerce. He chairs the Southwest Georgia Alliance for Progress, a regional coalition to strengthen economic, educational, and cultural infrastructures that support the Marine Corp Logistics Base of Albany. He is a long-time Rotarian and Paul Harris Fellow.
The Southwest Campus is part of MCG's regional campus network that has students living and learning across Georgia. The Albany-based campus has third- and fourth-year medical students working with physicians and hospitals throughout that quadrant of the state, including Albany, Tifton, Cordele, Valdosta, LaGrange, Americus, Thomasville, and Columbus.