The Pediatric Comprehensive Sickle Cell Program at the Medical College of Georgia at Augusta University is opening a new Telehealth Center to better serve pediatric patients across Georgia.
While MCG physicians have traveled the state seeing sickle cell patients for more than 30 years, the new center with high tech monitors and teleconferencing equipment provided by the Georgia Department of Public Health, will give patients more access to physicians than ever before.
In addition to the patients they see in Augusta at the Children's Hospital of Georgia, MCG pediatric hematologists see and treat around 300 children in Albany; 150 in Valdosta; 75 in Dublin; 60 in Waycross and 25 in Athens, according to Dr. Betty Pace, program director and Francis J. Tedesco Distinguished Chair in Pediatric Hematology/Oncology. "We had been traveling to Albany, Valdosta and Athens every other month, and to Dublin and Waycross quarterly," she says.
They had also begun slowly adding telehealth visits in between, but aging equipment with poor sound and video quality made things difficult. Then when the COVID-19 pandemic hit, many sites went offline. "To do a traditional telemedicine visit, a health care provider has to be on the other end of the system," Pace explains. "In rural Georgia, in places like Albany for instance, they were particularly hard hit and the health departments were closed; therefore, we could not conduct telemedicine or in person onsite clinics. Albany was the first to go offline."
That left many patients with no close access to a hematologist. "The only contact we had with patients was talking with them over the phone," she remembers. "We were filling prescriptions, but that was all we could really do for them." When the AU Health ExpressCare App, the health system's virtual health platform, launched in mid-March, they were finally able to "see" patients virtually again.
Now that the pandemic is waning in some cities, Pace and her team say the timing could not be better to launch the new Telehealth Center. "We have the capacity to see each patients on demand, virtually in their homes, or during our traditional telemedicine and on-site South Georgia outreach clinics," she says.
The new center is housed on the second floor of the Dugas Building on AU's Health Sciences Campus. Along with Pace, Judi Schweitzer serves as the certified telemedicine coordinator and clinic coordinator for patients in Valdosta and Athens, and Ann Sapp coordinates clinic visits for patients in Albany Dublin and Waycross. "We are forever grateful to the Georgia Department of Public Health for its support of our Sickle Cell Program," Pace says.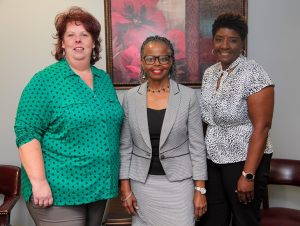 Sickle cell disease is a group of inherited red blood cell disorders, according to the Centers for Disease Control and Prevention. Healthy red blood cells are round and they move easily through small blood vessels to carry oxygen to all parts of the body. In someone with sickle cell disease, the red blood cells become sickled shape which causes them to rapidly breakdown, leading to anemia. When sickle red blood cells travel through small blood vessels, they can block blood flow to vital organs. This causes repeat episodes of pain and other serious problems such as infection, pneumonia and stroke, among others.
Newborn screening for sickle cell disease is required in every state in the United States and US territories. In Georgia, infants identified with sickle cell disease are followed up at the Children's Hospital of Georgia or Children's Health Care of Atlanta. Between 150-200, babies are diagnosed with sickle cell disease each year in Georgia.
The MCG and AU Health Sickle Cell Center includes an adult and pediatric clinic.
September is National Sickle Cell Disease Awareness Month.