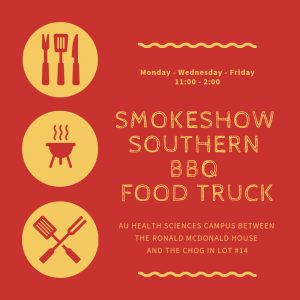 McDonald's inside the Children's Hospital of Georgia lobby will be closed for repairs for several weeks beginning Monday, March 4.
The Food and Nutrition Services team is providing several additional options for guests and staff, including a special food cart in the Children's Hospital lobby from 7 a.m. to 7 p.m. Monday through Sunday. Guests will be able to buy hot breakfast sandwiches and lunch items such as Chick-Fil-A and Simply To Go specialty salads and sandwiches.
The Terrace Cafe also will be open on weekends with a temporary operating schedule of 7 a.m. to 9 p.m. Monday through Sunday, and Subway will extend its daily hours until 11 p.m.
Smokeshow Southern BBQ will operate a food truck onsite between the Dugas Building and the Children's Hospital parking deck (Lot 14) from 11 a.m. to 2 p.m. on Mondays, Wednesdays and Fridays.