In a day that saw frogs hugging squirrels and bananas and gorillas living together in perfect harmony, 181 MCG students gathered at the J. Harold Harrison, M.D. Education Commons to receive and open the envelops that contained their "what's next."
"I'm not sure I have a stomach anymore," said Rachel Marks. "My ulcer actually climbed up my esophagus."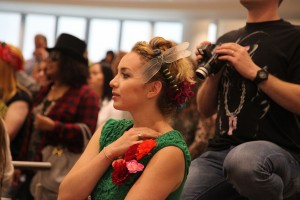 Marks' envelope contained the news that she would start her residency right here, which was her first choice. The Augusta native was thrilled.
"My mom's elated," she said. "I'm excited to be here and be near my parents and to be doing dermatology."
All across the nation, senior medical students opened similar envelops and found out where they would be receiving their postgraduate specialty training.
In Athens, 39 students enrolled in the GRU/UGA Medical Partnership went through a comparable, though more reserved, ceremony.
MCG's theme, "Welcome to the Jungle," drew enthusiastic participation from everyone, including Medical College of Georgia Dean Peter Buckley, who wore full khaki and looked ready to go on safari.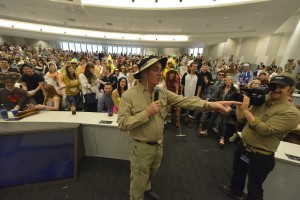 According to the Association of American Medical Colleges, nearly 35,000 U.S. and international students applied for one of the more than 27,000 first-year residency positions offered in this year's Main Residency Match.
Here, this year's class had an impressive 97.7 percent match rate, with students headed to programs in 35 states. Thirty percent will remain in Georgia for their first and second postgraduate year, with 20 percent remaining at MCG/GRHealth.
They matched in 18 specialties, and 40 percent are pursuing primary care, including Chris Ellington, who got exactly what he wanted.
"I'm staying right here," he said with a smile. "I love Augusta. The people are nice, and there are just friendly faces everywhere."
After an agonizing week of waiting, his relief was obvious.
"You knew on Monday whether or not you matched, but you didn't know where," he said. "So there's lots of nerves. The people with the best costumes are probably the most nervous."
Lindsey Carter and Janelle McGill, who along with several other friends dressed up to form a gaggle of geese, got their first choices, too – Carter to Greenville, South Carolina, and McGill here in Augusta.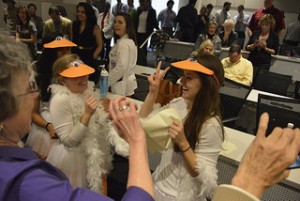 "All of us (in the gaggle) either got a number one or a number two choice," Carter said.
Underlying the party atmosphere, however, was the fundamental significance of what was occurring.
"This is a great moment in your career," Buckley told them before the names were drawn. "You will remember this for the rest of your career, so enjoy the next couple of weeks. They are very, very special."
Relaxing with friends after the ceremony, Ellison seemed to agree.
"It's the end of something, but the beginning of something as well," he said. "We had a really good class. They put in the extra work, and it paid off."
For additional photos, click here.