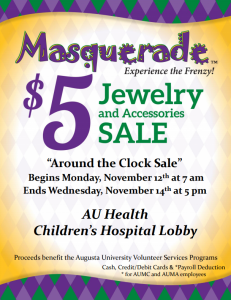 Start getting ready for gift-giving season with Masquerade Big Holiday $5 Jewelry and Accessories Sale, hosted by the Office of Volunteer Services and Engagement.
Masquerade is the country's largest $5 jewelry and accessories retailer bringing thousands of unique and stylish options right to Augusta University employees, patients and students.
The sale is open to the public, and proceeds benefit volunteer programs and scholarships at Augusta University and AU Health.
Everything is $5, and cash, credit and debit cards are accepted. Payroll deduction will be available for AU Medical Center and AU Medical Associates employees.
The sale runs "around the clock," from 7 a.m. Monday, Nov. 12, until 5 p.m. Wednesday, Nov. 14, in the Children's Hospital of Georgia lobby.
For more information on the sale or volunteer opportunities, email the Office of Volunteer Services or call (706) 721-3596.