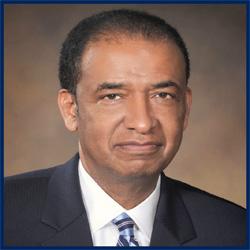 Educator and Civil Rights Activist Dr. Cleveland L. Sellers, Jr. will be the keynote speaker for the 2018 Martin Luther King, Jr. Birthday Celebration on Jan. 12 at noon in Paine College's Gilbert- Lambuth Memorial Chapel. This annual event is hosted by Augusta University, Paine College and Augusta Technical College.
Sellers, a native of Denmark, SC, is widely known for his involvement in the civil rights movement following the death of Emmett Till. In 1965, he was named the program director of the Student Non-Violent Coordinating Committee and participated in the organization's Alabama initiatives as well as the march from Selma to Montgomery led by Dr. Martin Luther King, Jr.
In 1968, Sellers helped coordinate a protest of segregated bowling alleys in which three South Carolina State students were killed by Highway Patrol Officers. Sellers was later convicted and jailed for seven months for inciting the riot known as the Orangeburg Massacre but was later pardoned.  While incarcerated, he penned his memoir "The River of No Return" which highlights the rise of the civil rights movement and black consciousness.
Sellers is the former president of Voorhees College and the former director of the African-American Studies Program at the University of South Carolina in Columbia.
He earned a bachelor's degree from Shaw University, a master's degree from Harvard University and a doctoral degree from the University of North Carolina at Greensboro.
Augusta University will be providing shuttle service to and from the chapel between 10 a.m. and 3 p.m. Every ten minutes, buses will be leaving and returning to the shuttle stop located in front of University Hall on the Summerville Campus.
For more information about this event, contact Augusta University's Office of Diversity and Inclusion.