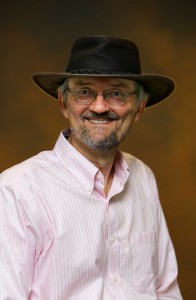 AUGUSTA, Ga.- Dr. Jurgen Brauer, Professor of Economics in the James M. Hull College of Business at Georgia Regents University, will be inducted into Morehouse College's Martin Luther King, Jr. Collegium of Scholars. He will be officially recognized April 9 at the institution's Martin Luther King, Jr. International Chapel.
Selection is based on current members' recommendations and an exhibition of King's ethical traditions of non-violence through the clergy, scholars, and laity.
"Brauer's research in the field of peace economics is impressive, and for him to be included among this elite group of leaders, speaks highly of his work, "said Dr. Marc Miller, Dean of the Hull College of Business at GRU.
In addition to his teaching responsibilities at GRU, Brauer serves each summer as a visiting Professor of Economics at Chulalongkorn University in Thailand.
Brauer is a noted researcher whose work on peace economics, the firearm industry, and genocide have been published in eight languages and featured in numerous publications, including the European Journal of Political Economy. He is also lead author of Peace Economics: A Macroeconomic Primer for Violence-Afflicted States, and Co-Founder and -Editor of The Economics of Peace and Security Journal.
He has consulted for the World Bank, the United Nations, the North Atlantic Treaty Organization, the U.S. National Defense University, and to the Chief Economist for the Office of the Comptroller in New York City. He is a former Peace Fellow of the United States Institute of Peace.
He received his doctoral degree from the University of Notre Dame.
###
Georgia Regents University is one of four public comprehensive research universities in the state with nearly 10,000 students enrolled in its nine colleges and schools, which include the Medical College of Georgia – the nation's 13th-oldest medical school – the nationally-ranked Hull College of Business and Georgia's only College of Dental Medicine. The clinical enterprise associated with the university includes the 478-bed Georgia Regents Medical Center and the 154-bed Children's Hospital of Georgia. GRU is a unit of the University System of Georgia and an equal opportunity institution. http://www.gru.edu