After an extensive national search, Augusta University has announced Mark A. Thompson, PhD, as dean of the James M. Hull College of Business, beginning Friday, Nov. 10.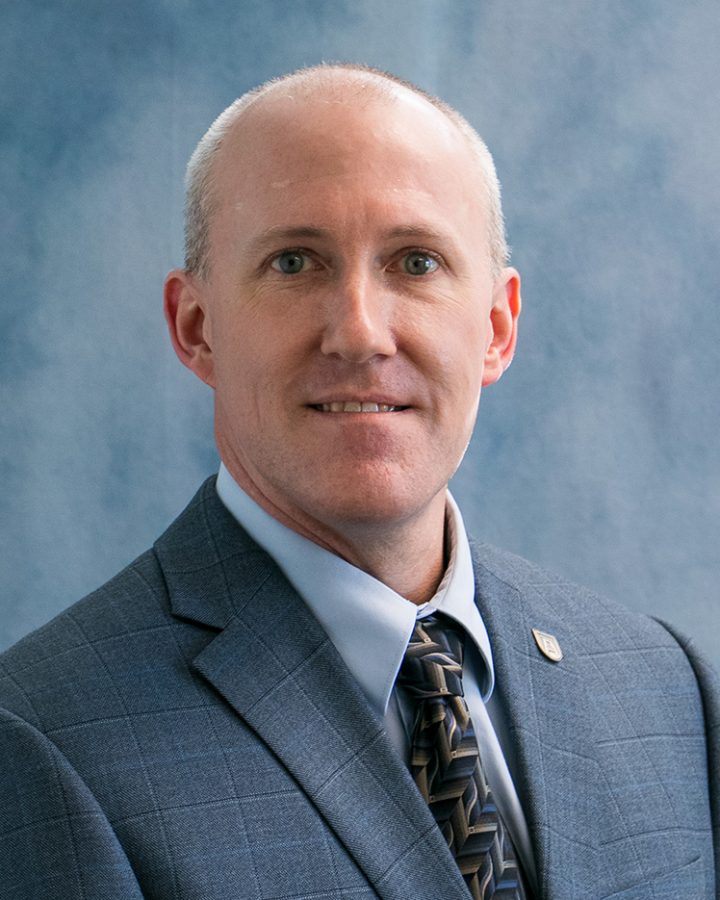 A faculty member since 2013, Thompson served as associate dean and the Grover C. Maxwell Chair of Business Administration and professor of economics. He has served as interim dean twice, the first time from March 2015 to January 2017 and most recently since March 2023.
"Hull College of Business is a nationally respected business college, earning recognition from numerous organizations as having one of the nation's best on-campus MBA programs, and has been ranked No. 1 in the nation for most affordable online MBA by College Consensus for two straight years," said Augusta University President Brooks A. Keel, PhD. "We are extremely proud of the reputation Hull College of Business has earned, and Dr. Thompson has had a hand in making that happen. As we work to continue to meet our aspirational imperatives, including 16,000 students by 2030, it will be important for Hull College of Business to continue elevating its national recognition by offering innovative programs that students want to study and that benefit employers." 
Thompson has served on the faculty in the Department of Physiological and Technological Nursing in the College of Nursing, as well as in the Division of Health Economics and Policy and the Department of Population Health Sciences in Medical College of Georgia. 
Among the highlights of his tenure since joining Hull, he has overseen and maintained the internal operations and developed a summer grant program to provide salary support for research and innovative teaching projects. He also has exemplified servant leadership by being one of the first AU faculty to teach a dual enrollment course in a local high school during the fall semester.
"I am honored to have been selected to lead Hull College of Business into a new future as the next dean," Thompson said. "This is an exciting time for Hull College and August University, and I look forward to working with campus leadership, faculty, staff, students, alumni and our local business leaders to continue elevating the college's impact and influence and to implement innovative ways of providing academic programs that truly stand out for attracting business students to AU."
He earned both his PhD in economics and his BBA in business economics from Texas Tech University, where he served on faculty from 2009 to 2013. Thompson also worked as an assistant professor in the Department of Economics & Finance at Nelson Rusche College of Business in Nacogdoches, Texas, from 2003 to 2006 and at the University of Arkansas-Little Rock as a State Economic Forecaster for the Institute for Economic Advancement in 2006-07.
"It was clear following his finalist forum that there was overwhelming support for Dr. Thompson to become the next dean of our Hull College of Business," said Neil J. MacKinnon, PhD, executive vice president for academic affairs and provost of Augusta University. "Having worked with Dr. Thompson as he has served in the interim dean role since March, I know he will provide a trusted and steady hand leading the college, while also focusing on enrollment and scholarship growth."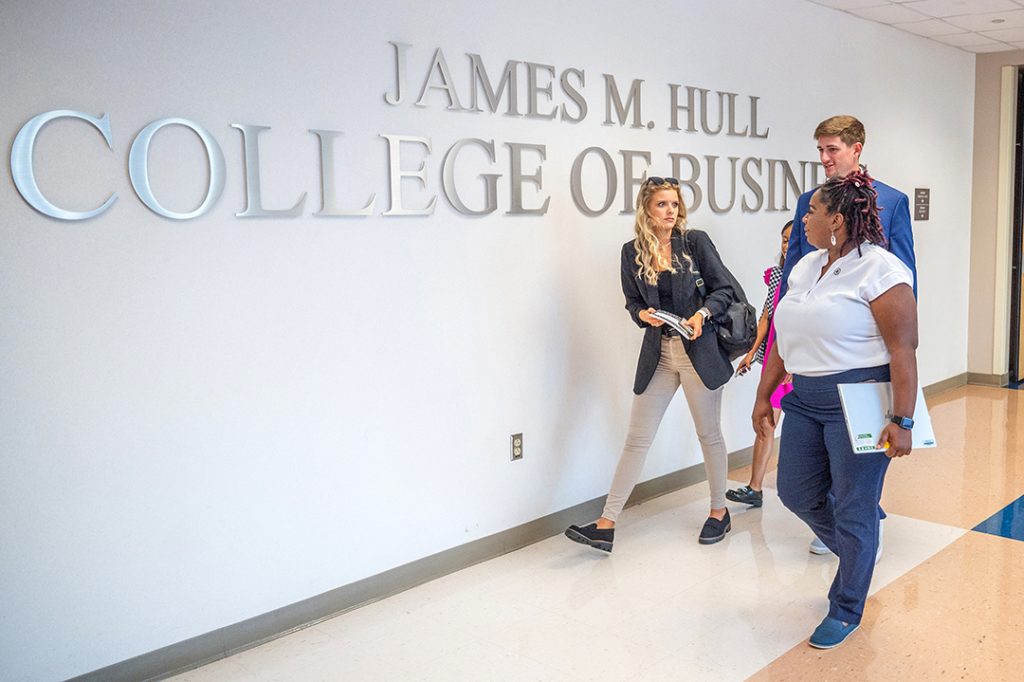 Thompson said growing enrollment in the business school by promoting their programs throughout the region and having a greater presence locally are among some immediate initiatives he plans to address. He also mentioned redesigning the undergraduate programs to provide more market-driven concentrations in addition to developing 4 + 1 programs with the MBA program.
"We will continue to develop partnerships and opportunities with the local high schools through business pathways, student clubs and dual enrollment. We will work on developing a scholars program for incoming freshmen that provides a scholarship, as well as programming around business professionalism," Thompson said. "Another set of initiatives revolves around elevating research in the Hull College of Business, including increasing the summer research grant program, expanding our data resources for faculty research and developing additional research collaborators."
Thompson said he will continue to find ways to further engage and embed the college within the community. College leadership is developing educational programming on financial literacy for the local area aimed at fourth, eighth and 12th grades, as well as for the adult population. They are also working on developing partnerships with the business community and organizations, which "would greatly improve the economic health of the region. In addition, we are working on ways to integrate our students and courses with Junior Achievement Discovery Center of the CSRA."
Thompson is ready to lead the college into the future and knows his established working relationship will not only continue to flourish but he will also find ways to motivate and challenge the faculty and staff to thrive for excellence.
"I have worked hard to develop strong, professional relationships with the faculty and staff," he said. "They will continue to see the same genuine, analytical and hard-working individual who supports them in their respective roles, advocates on their behalf, and works with them to move the college forward. They can expect much the same as I transition roles but always looking to advance the Hull College."