An innovator in the use of ultrasound in medical education and treatment and a physician/scientist whose long-term work has helped develop a new line of cancer drugs are two of only four recipients for Georgia Bio's 2017 Innovation Awards. The awards were presented at the group's Annual Awards Dinner Thursday, Jan. 26, in Atlanta.
Dr. Matt Lyon, a professor of emergency medicine at the Medical College of Georgia at Augusta University, and Dr. David Munn, an MCG pediatric hematologist/oncologist and associate director of the Georgia Cancer Center's Cancer Immunotherapy Program are recipients of the awards, which honor those who are forging new ground by thinking outside traditional paradigms to create unique technology.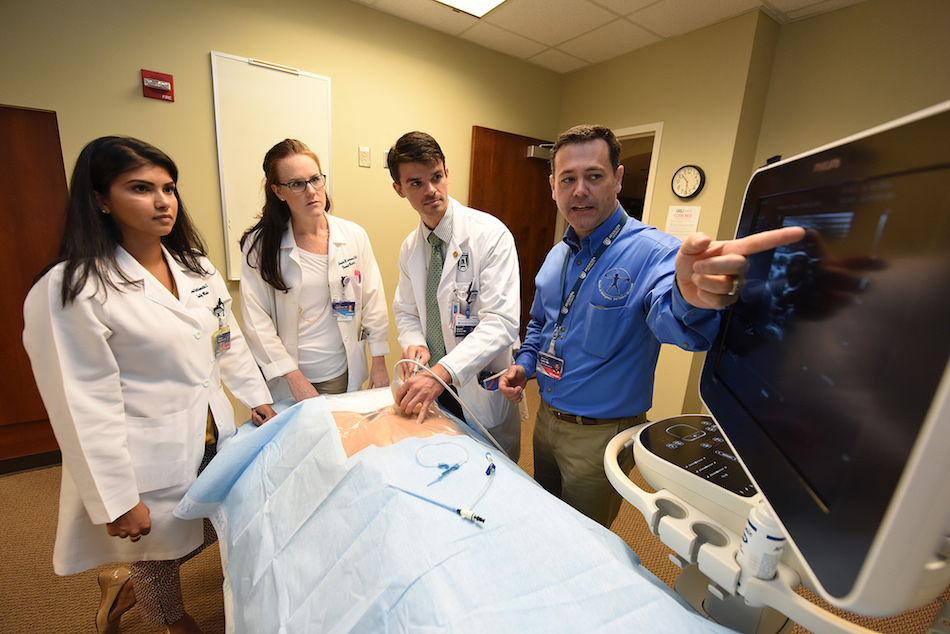 Lyon, who also is a 1999 graduate of MCG, also serves as the director of the Center for Ultrasound Education and Research at Augusta University. He is being recognized for pioneering new applications for ultrasound, including the assessment of traumatic brain injuries.
Lyon and his colleagues, aided by funding from a Small Business Innovation Research grant from the National Institutes of Health, are working to create technology that would allow available handheld 2D ultrasound transducers to produce high-quality 3D images. Those images could be used to assess intracranial pressure changes that may be seen with traumatic brain injuries. Ultrasound visualization of the patient's optic nerve sheath, which is filled with cerebrospinal fluid, can show intracranial pressure changes that can be associated with concussions and other traumatic brain injuries, Lyon explains. "Essentially, with a TBI, there's more pressure and more swelling," he said.
Once the technology is developed, they'll work to refine it by measuring its images against other traditional 3D images from CTs and MRIs. "Traditional 3D and 4D technology is expensive," he said. "This is something that could be added to existing equipment and something that, once refined, could have implications in things like sports medicine – think concussions – or even skin cancer, where a physician could use the images to make sure they removed all of the margins of a melanoma, for instance."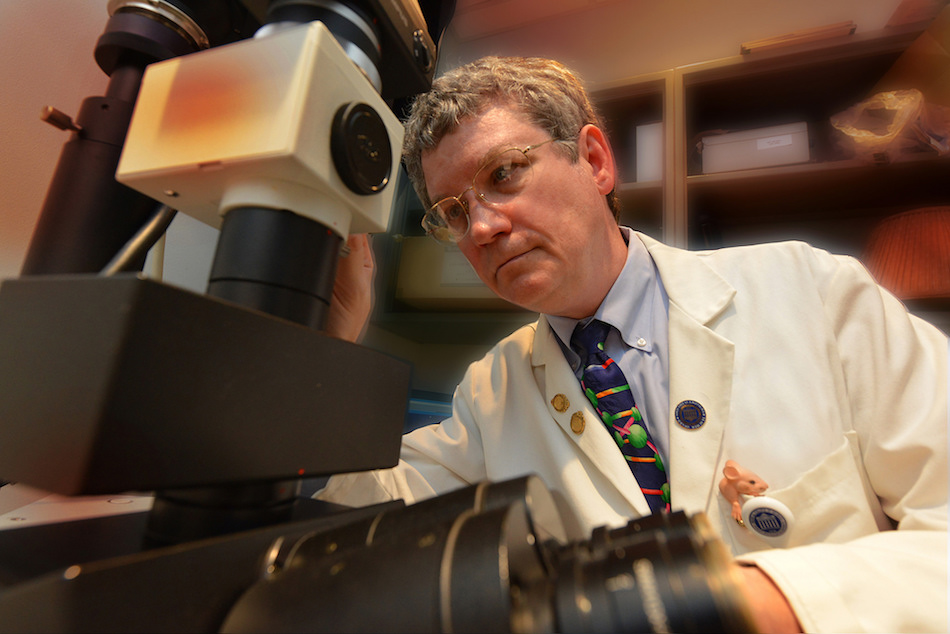 Munn, a 1984 alumnus, is being recognized for his research on tumor immunology and the molecular mechanisms of immune suppression and tolerance. Nearly 20 years ago, in 1998, Munn and his research colleague Dr. Andrew Mellor discovered the role of indoleamine 2,3-dioxygenase, an enzyme known as IDO, in fetal survival by keeping the immune system from seeing the fetus as a foreign object. Their finding that the enzyme is also mimicked and expressed by tumors in an effort to hide themselves from the immune system helped lead to new treatments for cancer.
Drugs called IDO inhibitors, which essentially work by reactivating the immune system to recognize the tumors and attack them, are currently in Phase II clinical trials in adults. This past fall, the Georgia Cancer Center also opened the only pediatric clinical trial of the IDO inhibitor indoximod, one of only a handful of pediatric immunotherapy trials being done anywhere, Munn said.
Traditionally, clinical trials for children take a long time to come to fruition because they have to be tested in adults first and that process can take 10 years or more, he explained. But, the combination of the IDO discovery being made at the Georgia Cancer Center and the scientific collaboration that Munn has with the company conducting the clinical trials eased that process.
"Both Drs. Lyon and Munn are incredibly deserving of this recognition," said Dr. Chris McKinney, Augusta University's associate vice president for Innovation Commercialization and a member of the board of directors for Georgia Bio. "They both represent the very best of Augusta University with their creativity in solving intractable problems in new ways and ensuring that what they do impacts human health. They are truly making a difference in people's lives through their innovative efforts."