Editor's Note: The field of occupational therapy is anything but limited. This month, Jagwire will be spotlighting the occupational therapists who make quality and compassionate patient care possible.
Hari Kashyap chose to specialize in lymphedema therapy to make a positive contribution to society and address a great need to increase the quality of life for lymphedema patients.
According to Kashyap, an occupational therapist in the Georgia Cancer Center, lymphedema is a condition where the lymphatic system flow is disrupted and causes swelling, pain and even leakage. Any body part around the lymphatic system can cause lymphedema. It can take one of two forms.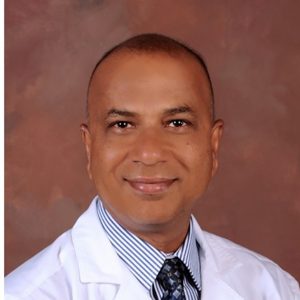 "Primary lymphedema is something that you are born with, a poor functioning lymphatic system and then this swelling becomes visible in the teenage years," Kashyap said. "Secondary lymphedema occurs from another diagnosis, like cancer, that damages their lymphatic function."
Kashyap mainly sees patients who have secondary lymphedema.
"For example, a patient who has breast cancer may undergo a mastectomy and she may lose some of her lymph nodes in her armpit area and have other cancer treatments. These treatments can cause dysfunction and impairment of her lymphatic system, which causes draining problems, and her arm and chest can swell up. She can lose her range of motion in the shoulder. Her hand grip can get weaker. She may not be able to fit into a standard size clothing," Kashyap said.
He works closely along with oncologists and plastic surgeons to increase these patients' quality of life.
In lymphedema therapy, Kashyap uses Complete Decongestive Therapy (CDT) to treat lymphedema patients, which employs compression garments, therapeutic exercises, skincare to prevent infection and manual lymph drainage, which is like a light massage that helps regulate and improve the lymph flow.
He said he has seen firsthand how lymphedema therapy changes patients' lives by allowing them to return to their daily routines.
"I feel like occupational therapy is also therapy for me. I am getting paid for something I enjoy and that makes me feel good," he said.
Kashyap encourages primary care providers to research and learn more about lymphedema therapy and to send out referrals at earlier stages. Contact him via email or call 706-721-6744.