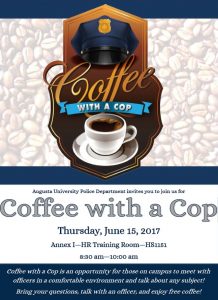 The Augusta University Police Department will be holding its latest Coffee with a Cop event from 8:30 – 10 a.m. on Thursday, June 15, in the HR Training Room in Annex I on the Health Sciences Campus.
The event, an opportunity for those on campus to interact with officers over a relaxing cup of coffee, is part of the department's new strategy for engaging the community it serves. It also gives folks the chance to review the new uniforms and talk about other aspects of the department's new look.
Additionally, those attending the event will be able to learn more about how Augusta University was recently named safest college campus in Georgia by ADT Security Services.