by Sidhartha Wakade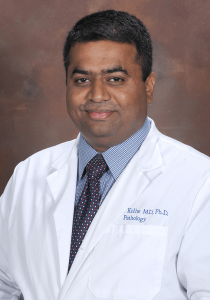 Dr. Ravindra Kolhe, an associate professor in the Department of Pathology, was named to the American Society for Clinical Pathology's 40 under 40 list, an annual list recognizing pathologists under 40 who have distinguished themselves in the field.
Kolhe, who began his time at The Medical College of Georgia at Augusta University in a post-doctoral position, has spent the last five years as a faculty member. Recently, he worked on a collaboration that utilizes IBM's Watson, a supercomputer that analyzes data with the help of artificial intelligence, in order to examine the genome of cancer patients for better diagnoses and treatments.
"Pathology is a great platform because it interacts with each and every clinical department," Kolhe said. "If you're an oncologist, you'll be only working with cancer, but with pathology we work with OB, we work with neurosurgery, we work with pretty much every clinical branch, so if you do research in pathology you get exposure to pretty much everything."
Kolhe, who is excited about the growth of his field, was honored to be recognized.
"It's a national recognition by your own colleagues, and I got a bunch of emails from people I know all across the country," he said. "It's exciting."