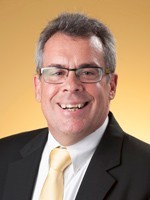 After an extended national search lasting more than a year, the James M. Hull College of Business at Augusta University has found a new dean.
Dr. Richard M. Franza, currently senior associate dean of the Michael J. Coles College of Business at Kennesaw State University, has accepted the position and will officially join the university on Feb. 1, 2017, succeeding Dr. Mark Thompson, who has served as interim dean since the departure of Dr. Marc Miller in July 2015.
"We were committed to finding what we considered the ideal candidate, and we identified that candidate in Richard Franza," said Dr. Gretchen Caughman, executive vice president for academic affairs and provost. "Dr. Franza has a commitment to excellence with a focus on relationship building. He is a wonderfully personable individual, and I'm confident he will fit in well with the community."
Franza, who earned his doctorate in operations management from the Georgia Institute of Technology, his Master of Business Administration from Duke and his Bachelor of Science in Applied Mathematics from Notre Dame, has been with Kennesaw State since 2002.
"His coming from a member institution of the University System of Georgia means he already has an understanding of System policies and procedures, and of our state in general," Caughman said. "Kennesaw is a great university that's on the move. They've done impressive things in the College of Business, and Rick has been an important contributor to that."
All deans are critical to a university's success, and Caughman says finding the right person to lead a college of business is especially important because of the relationship of the college, and its dean, to the local business community. In Augusta, that importance is heightened because of the university's growing cyber program, academically housed in Hull, and the expanding affiliation with the military.
That relationship with the military dovetails nicely with Franza's experience outside academia. While serving in the United States Air Force as a strategic defense initiative project manager, Franza directed the research and concept development efforts for the "Star Wars" program in the mid- to late 1980s.
"He has a real appreciation for what our military is and does, and I think that will be to our advantage as we continue to grow our relationship with Fort Gordon and the Cyber Center of Excellence as well as the NSA," Caughman said.
While expressing excitement for the future, Caughman was also quick to praise Thompson's interim guidance.
"We've had great leadership with Mark Thompson," Caughman said. "He ensured that Hull College didn't miss a beat in terms of advancing its critical initiatives in cyber and in our new educational offerings."