Joseph Koons, a health care finance executive with more than 20 years of experience, has been named vice president of Revenue Cycle Services at Augusta University Health. He is the former VP of Patient Financial Services at Mission Health, Inc., in Asheville, North Carolina.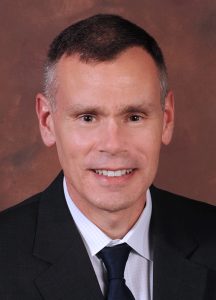 This key leadership role reports to the chief financial officer and will oversee all revenue cycle processes and continue the alignment efforts of physician and professional billing with hospital revenue functions in order to achieve greater efficiency and increase patient satisfaction.
"We are pleased to welcome Joseph Koons to our financial management team," said Greg Damron, Vice President of Finance and Chief Financial Officer for Augusta University Health System. "AU Health is engaged on multiple fronts in efforts to maximize quality, optimize operations and enhance the patient experience across our hospitals and clinics. The revenue cycle project is a vital component in these efforts."
Koons, a Certified Revenue Cycle Executive and Professional Coder, is a Fellow of the Healthcare Financial Management Association, where he has earned awards for several performance improvement projects. He began his career in 1994 as a financial analyst with Detroit Medical Center and Children's Hospital of Michigan and followed that with progressively responsible positions at health care organizations in Florida, South Carolina, and Virginia, before managing finances for six acute care hospitals at Mission Health.
Koons has a Bachelor of Science in Economics from Florida State University and a Master of Science in Health Services Administration from Central Michigan University. He is also a certified Six Sigma Green Belt through extensive training in the core and advanced elements of Lean Six Sigma Methodology for process improvement.
In addition to HFMA, he is a member of the American Association of Healthcare Administrative Management and the American Academy of Professional Coders.