Two experienced employees of Augusta University's Environmental Services Department have been promoted to managerial positions.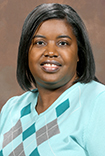 Charlene Johnson, a 12-year veteran of the department, is now manager of Environmental Services (EVS) for the Health Science Campus. Thaddeus Sands is now manager of EVS for the Summerville Campus.
Johnson is from Columbia, South Carolina, and she graduated from Eau Claire High School.
"I am very excited about the new position, and I am looking forward to working with all of the great people here at Augusta University," Johnson said.
Sands is a native of Augusta and graduated from the Academy of Richmond County. Prior to his promotion, he was the department's pest control specialist for four years.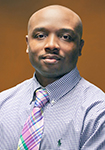 The EVS department provides cleaning services, sanitation services and waste removal services for all facilities on the Health Sciences, Summerville and Forest Hills Campuses.
"This is an incredible opportunity. The department's confidence in my abilities means a great deal to me," Sands said. "I look forward to the new challenges and opportunities for growth, not only for myself but for our entire department. I hope to do my best to surpass the expectations of this position."