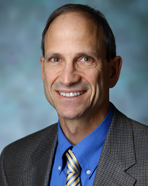 Dr. Steven M. Frank, medical director of the Johns Hopkins Health System Blood Management Program and an expert in blood management and transfusion practices, will share his knowledge about the use of blood and blood products on the Augusta University Health Sciences Campus on Monday, Nov. 6. Frank, a professor of anesthesiology and critical care medicine, is also medical director of the Center for Bloodless Medicine and Surgery at Johns Hopkins.
He's speaking at 7 a.m. and again at noon in the Lee Auditorium, where he will explain why ordering just one unit of blood is a best practice in medicine. Blood transfusion is the most common procedure performed in U.S. hospitals and one of the top five overused procedures, according to the Joint Commission. Excessive blood use is costly and associated with an increase in post-transfusion complications.
Why give two when one will do? Come find out. Everyone is welcome to attend.