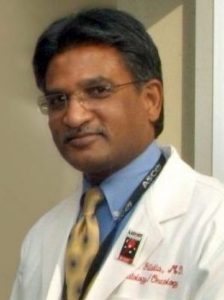 Dr. Anand P. Jillella returns to the Medical College of Georgia at Augusta University July 1 as the J. Harold Harrison, MD, Distinguished University Chair in Medical Oncology.
Jillella also has been named chief of the MCG Division of Hematology/Oncology and associate director of Medical Oncology Services at the Georgia Cancer Center. He will also direct ambulatory services for the cancer center.
Jillella is the founding director of the Georgia Cancer Center's adult stem cell and bone marrow transplant program and served as chief of the MCG Section of Hematology/Oncology from 2005-13, when he was named associate director for Community Affairs and Outreach at Winship Cancer Institute at Emory University. He also has served as medical director of the Winship Cancer Network, which brings clinical and population based trials to communities throughout Georgia and the region.
"Dr. Jillella is a superb clinician and clinical researcher who is outstanding at outreach and networking with community oncologists," said Dr. David C. Hess, MCG dean and executive vice president for medical affairs and integration at Augusta University. "His patients love him and he is widely respected by his colleagues."
Jillella is a member of the Eastern Cooperative Oncology Group Myeloma and Leukemia Committees and the ECOG/ACRIN Advisory Board for National Cancer Institute Community Oncology Research Program centers. ECOG/ACRIN is a scientific organization that designs and conducts cancer research involving adults who have or are at risk of developing cancer. Jillella is a board member for the Georgia Center for Oncology Research and Education and an editorial board member of the Journal of Hematology and Thromboembolic Diseases.
"The MCG Foundation and Harrison family are proud to be a part of the recruitment of Dr. Jillella, and join Dr. (Brooks) Keel and Dr. Hess in supporting his appointment as a Harrison Chair," said Ian Mercier, President and CEO of the MCG Foundation. "This chair is meant to encourage the recipient to exhibit leadership and mentorship, two traits we believe Dr. Jillella consistently demonstrates."
Jillella's current research, funded by the Leukemia/Lymphoma Society, is a novel induction therapy for acute promyelocytic leukemia, a cancer of the white blood cells, which dramatically reduces mortality rates and starts as a national ECOG/ACRIN clinical trial July 1. His clinical focus is bone marrow transplantation for leukemia, multiple myeloma and other blood-related malignancies.
Jillella is a graduate of Government Medical College in Kurnool, India, completed an internal medicine residency at MCG and AU Health, including a year as chief resident, followed by a hematology-oncology fellowship at Yale University School of Medicine and bone marrow transplant training at John Hopkins Oncology Center.
The Harrison Distinguished University Chair in Medical Oncology is one of 10 endowed chairs being established at Georgia's public medical school through a $66 million gift by the late, renowned vascular surgeon and 1948 MCG graduate and his wife, Sue.