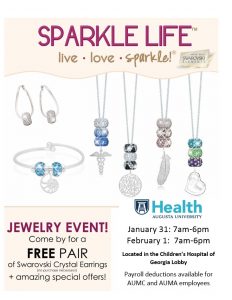 The Augusta University Office of Volunteer Services and Engagement can help you prepare for Valentine's Day while helping a good cause.
Sparkle Life, a designer jewelry retailer, will be on campus with a Pre-Valentine's Day Trunk Show benefiting the new Volunteen Jr. Program.
This event will take place in the lobby of the Children's Hospital of Georgia on Jan. 31 and Feb. 1 from 7 a.m.–6 p.m.
Everyone who stops by will receive a free pair of Swarovski crystal earrings and will be eligible for other great offers.
Additionally, payroll deduction will be available for AU Medical Center and AU Medical Associates employees during the sale.
This sale is sponsored by the Office of Volunteer Services and Engagement, and proceeds from the sale will benefit the Volunteen Jr.Volunteer Program.