The first Jazz at the G event of the new year will be Tuesday, Feb. 16 at the Grover C. Maxwell Performing Arts Theatre on the Summerville Campus. It will feature the Augusta University Jazz Ensemble under the direction of Dr. Rob Foster, professor of music, as well as special guest Amos Hoffman.
Each Jazz at the G concert is organized around several core goals. These include elevating the profile of the university and the radio station in the arts and culture sector, creating more opportunities for neighbors in the community to come to Augusta University and providing opportunities for students to share the stage and learn from world class musicians.
Drew Dawson, WACG station manager, believes inviting Hoffman to perform fulfills all of these goals.
"I think having this kind of artist come to the university to play with students and put on a concert feeds these key points in a marvelous way," Dawson said. "It's always good for people in a learning stage to be exposed to people who are successful in their field."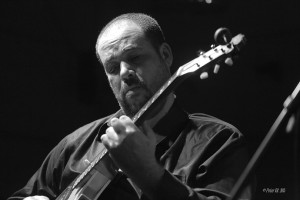 A pioneering Israeli jazz guitarist and oud player, Hoffman has gained worldwide acclaim for fusing the rhythms and melodic themes of the Middle East with modern jazz.
Hoffman started playing guitar at the age of six, and later attended the prestigious Rubin Academy of Music, now the Jerusalem Academy of Music and Dance. His search for new musical experiences led him first to Amsterdam, and then to New York City, where he played jazz with both established musicians and up-and-coming talents.
Hoffman has recorded four solo albums and headlined concerts and festivals at venues in countries including France, Romania, Spain, Turkey, Israel and the United States.  In 2014, he was awarded one of Israel's most prestigious prizes: The Landau Prize for Arts and Sciences for outstanding achievement in the field of Jazz.
Performing with Hoffman is a great learning opportunity for Augusta music students.
"Any time we can get an artist of his nature to the campus, it's a wonderfu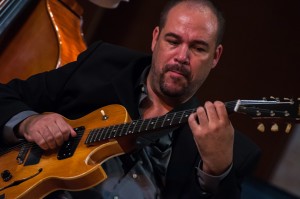 l opportunity," Dawson said. "Students will get the chance to share the stage with him, watch him play music and maybe ask him one or two questions."
Dawson is looking forward to the upcoming concert.
"The sounds that come from the oud are unique, and they're not something that's commonly heard in jazz circles," he said. "When you hear him play and you hear that sound, it instantly takes your mind to Middle Eastern music. Hopefully, we'll get a chance to experience something that we haven't heard before."
Tickets are available online at the Maxwell Theatre box office Monday-Friday from 1 p.m-5 p.m.