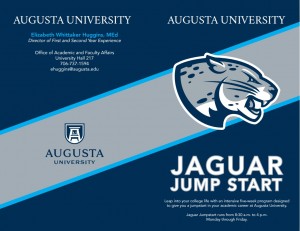 A new program designed to help students falling just short of admission requirements find a way into the university kicks off this summer, and it could have a big impact on student success.
Called Jaguar Jumpstart, this program offers students more than simply a pathway into Augusta University. According to Dr. Mark Allen Poisel, vice president for enrollment and student affairs, it also gives them the reinforcement to make the most of the opportunity.
"A lot of places call them summer bridge programs," he said. "They give students a chance to come during the summer and take some classes to prove themselves. If they do well, they're admitted in the fall and go on to do great things."
Students enrolled in the Jaguar Jumpstart program will take two core classes – English 1101 and Math 1001 – during Summer Session II, but instead of simply going to class, they will be in school from 8:30 a.m.–4 p.m. each day. The full day allows students to have extra lab experience and study-skills training. Each Friday, they will go on a field trip that connects back to their classroom experience.
"Students do really well in these kinds of programs because it's a little bit of an easier transition for them," Poisel said. "Not only do they get more support services, they get a jump-start on everybody else, which is why we call it Jaguar Jumpstart."
Jumpstart uses a cohort model. These students will do everything together – attend class, study and participate in activities – all while paying the same tuition fees that they would be paying if they were any other student taking six hours.
Extra resources, same cost. And same expectations.
"We're not treating these students any differently," Poisel said. "The classes and the expectations are the same; the faculty are going to be the same – none of that changes. All we're doing is providing a different kind of environment, extra study opportunities and a stronger support system."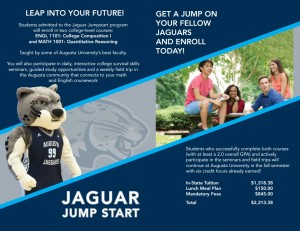 Actually, the demands for these students are even higher, considering that if they don't make the minimum grades over the summer, they don't get to come in the fall.
According to Dr. Carol Rychly, vice president for academic and faculty affairs, the concept has a good track record at other institutions.
"It's not a new program, though it's new for us as we're becoming a more comprehensive research institution," Rychly said. "What we're doing is admitting students who meet the bar for the old ASU, but don't meet the bar for the new Augusta University. It's an outreach to the community so that students who might have been able to attend before are still welcome."
That's important, Poisel said, because people mistakenly believe that the Augusta University admission requirements are hard and fast, so much so that those students who are on the edge are often discouraged from applying.
"We have multiple opportunities for students to come to Augusta University," Poisel said. "They either get admitted; they have the opportunity for Jaguar Jumpstart; or if their credentials are lower than that, they can still go to East Georgia State College on our own campus. Every student who applies here has the opportunity to be on our campus; they might just be in one of three different programs. But we've got a pathway for everyone."
And while the pathways might be separate, eventually they all join up at the same place.
"With Jaguar Jumpstart, you're taking the classes in the summer; you're getting ready for the fall; and when the fall comes and all your friends come, nobody knows the difference," Poisel said.
Rychly agrees.
"When they get in the more hectic environment of the fall, they already know their way around; they've already made some friends; and they feel a part of it already," she said. "That helps with motivation and success."
All of which means that when those first difficult six weeks in the fall are stressing out their friends, these students are feeling confident about navigating campus and the new academic environment.
Even better – summer financial aid opportunities may exist that won't impact fall and spring's availability.
Students or parents with admission questions should contact Interim Director of Academic Admissions Scott Argo. Those with programing questions should contact Director of First and Second Year Experience Beth Huggins.
The deadline to apply is the beginning of May.