The Augusta University men's and women's basketball programs enter the Peach Belt Conference Men's and Women's Basketball tournaments as the second and fifth seeds, respectively.
The men's tournament will be hosted by Augusta University at Christenberry Fieldhouse. USC Aiken earned the No. 1 seed for the tournament after sweeping the regular-season series over the Jaguars but were unable to host at the Convocation Center due to a prior commitment.
The Pacers and Jaguars shared the regular-season title, but the Pacers earned the top seed after sweeping the regular-season series.
Augusta University men's basketball head coach Dip Metress acknowledges the team's goal every season is to win the regular-season crown. He said the team looks forward to the tournament, especially with it being at home, where they have flourished for the past two seasons, going 31-2 in home games. Over the past five seasons, AU is 59-7 at Christenberry Fieldhouse.
"Playing at home is nice; Flagler gave us one of our losses this year, and they do a great job of spreading the floor and taking 3-point shots," Metress said of their quarterfinal opponent. Tip-off is scheduled for 5 p.m. Thursday, March 2.
"Our seniors have 105 wins during the four seasons they have played together," Metress said. "It will be important to get production from everyone on our roster."
The seniors — Tyshaun Crawford, Tyree Myers, Miguel Arnold and Darren Lucas-White — have played together since the 2019-20 campaign and each have amassed more than 1,000 career points.
Crawford is averaging 21.3 points per game this season, earning him a spot on the Top 50 Watch List for the 2023 Bevo Francis Award, which is comprised of the top players from across NCAA Division II and III, NAIA, USCAA and NCCAA. Along with Arnold, who is averaging 17.5 ppg, they've scored in double figures in every game but two.
On the women's side, Celeste Stewart was appointed interim head coach after the departure of Millette Green before the season and has led the Jaguar women to a 17-11 in the regular season.
The Jaguars will play the University of North Georgia in the quarterfinals at 7:30 p.m. Wednesday, March 1. The women's tournament is being played at No. 19 Georgia Southwestern in Americus, Georgia.
"First and foremost, I am very proud of my team. They have shown a lot of resiliency and dedication this season and that doesn't surprise me," Stewart said. "I knew that we were capable of doing the things we've done so far but it was just the matter of how we make it happen. I'm proud of how our team has overcome challenges; they have embraced it and used it to our advantage."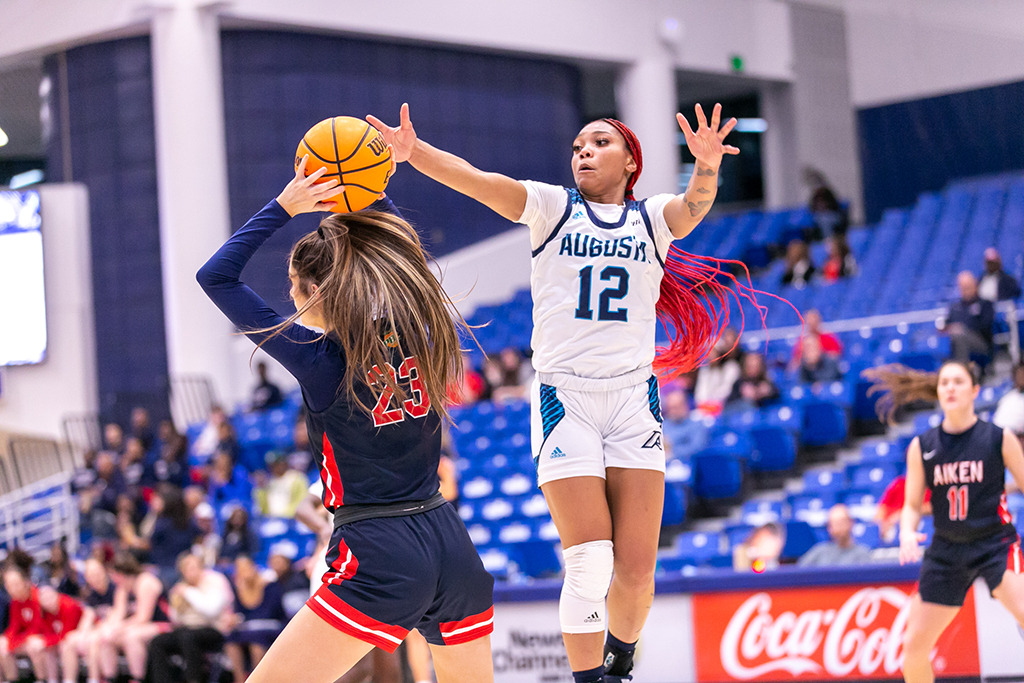 AU and UNG finished tied for fourth at 10-8 in conference play and split the regular season series, with AU winning 72-61 on Feb. 1 and the Nighthawks winning 61-55 on Feb. 22. The tiebreak was decided by UNG's victory over Georgia Southwestern on Feb. 4, giving the Nighthawks the No. 4 seed.
"We know we will need to come out ready to compete with a sense of urgency. We must defend, rebound and play together as a unit to see the results we want," Stewart said. "We are excited about the opportunity to compete."
The Jags enter the tournament averaging 61.7 points per game. Junior guard Tomiyah Alford (13.1 ppg), senior forward Kennedi Manning (12.8) and sophomore guard Autumn Phillips (10.7) are all averaging in double figures with Manning adding 8.4 rebounds a game.
"We are determined to reach our ultimate goal. Our team has worked so hard to get to this point, so this late in the season you have to create your own energy and be ready to take on the challenges ahead," Stewart said. "I will continue to do what I always do and challenge them so that when the time comes, we are prepared. As a team we know what is at stake and we are confident in our abilities."
Augusta University students can take the Blue Route shuttle to Christenberry Fieldhouse for Thursday's game. Shuttles will run until 10 p.m.