Students, faculty and fans of Augusta University Athletics will experience an exciting new environment when entering Christenberry Fieldhouse and watching games at Jaguar Field.
Athletics, in collaboration with Communications & Marketing and Facilities Services coordinator Jason Gribek, began planning the updates in August, which included several on-site walkthroughs.
Once new Director of Athletics Ryan Erlacher arrived in October, he met with C&M to see concepts and mockups of potential artwork throughout the facility.
Erlacher said everyone involved saw the tremendous potential for branding opportunities within Christenberry Fieldhouse. He added that Athletics wanted students to have a space that elicits Jaguar pride.
"The new signage and branding allow for just that," he said, crediting Augusta University President Brooks A. Keel, PhD, Executive Vice President for External Relations Russell Keen, EdD, and their administration for supporting the project.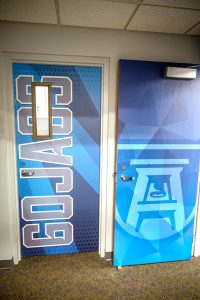 "Vice President of Communications & Marketing Mark Lane, Director of Marketing and Creative Services Taylor Lamb and their team did a fantastic job bringing this project to life," Erlacher said.
"We are beyond grateful for their excitement and support of this initiative. We have received numerous compliments from our fans, students and community members on the new additions and we've seen several students and supporters taking selfies in front of the updated spaces."
The artwork, which includes graphics and branding, was conceptualized and created by Lamb and his team, including Sergio Gallardo, senior graphic designer, and Alison Rohdy, brand strategist and trademark and licensing coordinator.
"I worked in Athletics for years before coming to C&M and always wanted to renovate the interior look of Christenberry Fieldhouse to create an atmosphere that the entire campus and community would be proud of," Lamb said. "We used some strategic thinking and funds to pull this off and I couldn't be happier with the new look and seeing our Augusta University brand and spirit marks living and breathing inside the arena."

"Our Forest Hills Campus has always been something to be proud of, with the Department of Athletics and the College of Education and Human Development sharing the space. We just made it more visually appealing to our visitors and intimidating to our opponents," Lamb said.
Along with the work done inside, new graphics were placed on the bleachers and press box facing Jaguar Field.
Erlacher said the aesthetic "looks amazing and really makes the arena come to life."
"It has modernized the space and provides everyone entering the facility a firsthand look at the investment Augusta University is making on the Forest Hills Campus," he said. "The kinesiology program is experiencing tremendous success, along with the Athletics programs. These students deserve the very best facilities we can provide them, and that is what we are working tirelessly toward. Our goal is to provide first-class facilities that rival some of the best in the country. This branding project was just the first step in a process to enhance all of the facilities we offer our students."