Head coach Millette Green didn't realize she was getting such a standout player when Kennedi Manning came to Augusta University.
Halfway through her freshman season, Manning, a 6-foot-1 forward on Augusta University women's basketball team, has started every game and ranks in the top five in total rebounds, the top 10 field goal percentage and the top 15 in scoring and rebounds per game in the Peach Belt Conference.
"Going into the first week of workouts, I was a little concerned about her size and the physicality of the game, meaning, would she be able to play right away? And in the first preseason workout, she was getting down to the nitty gritty," Green said. "She was really locked into getting stronger and developing her skills. She possessed some early leadership skills that I did not see. When the games started, she blew me away again … I knew she had earned a starting spot."
Manning wasn't serious about playing basketball until she got to Stone Mountain High School. She had been playing tennis since she was 5 years old but the allure of playing with a team was appealing.
"I was good at tennis, but it's very much a mental game … if you mess up, it's all on you. I just felt a lot of pressure," Manning said. "At the same time, I moved toward basketball because I just love the team aspect. It's not all on you; we all work together. We all make mistakes and you're not the only one in the wrong sometimes."
She used her height to her advantage once she started high school. She went from 5-foot-4 in sixth grade to her current height by her freshman year, which meant she was usually the tallest player on the court. What she struggled with was consistency in the coaching staff. Manning said she had four or five coaches during her high school career, which made it "hard to develop a relationship with a coach and develop my game with that coach."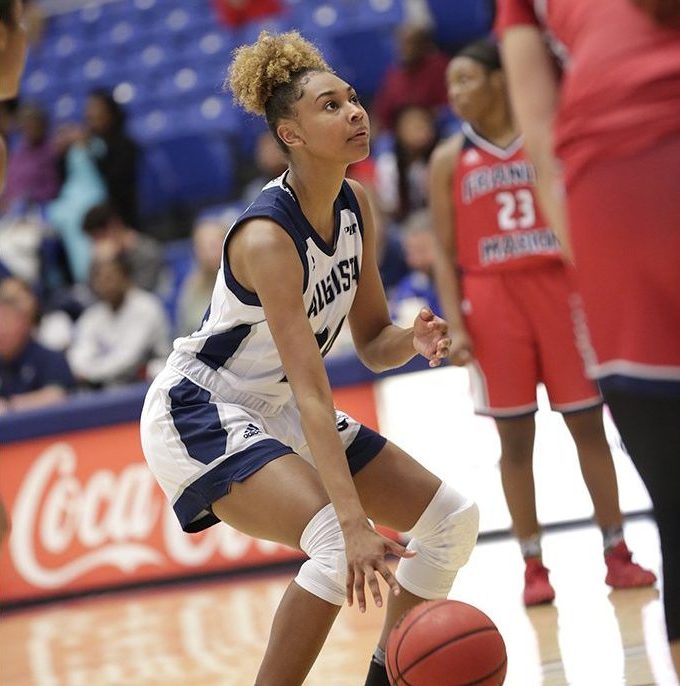 Manning comes from an athletic family. Her father, Barry Manning, played basketball at the University of South Carolina from 1989-92. He also played on the Gamecocks squad that played in the first game at Christenberry Fieldhouse on Jan. 29, 1991. During Kennedi's recruiting visit to AU, athletic director Clint Bryant remembered Barry and started talking about that first game.
"It's pretty cool, as a father, to have played in a gymnasium when it first opened and now being able to see my daughter play her games here, it's very nice," said Barry Manning, who played in 121 games at South Carolina and averaged 10.2 points per game.
Kennedi Manning said she knew he was "kind of a very big deal" at South Carolina during visits to her grandmother's house when she would see magazine covers with his picture on them.
"He never told me that you played in his gym until we came to visit the school, so that was interesting," Kennedi Manning said.
He was coaching her during her early years but admits he had to step away from that responsibility because of what it was doing to their relationship off the court.
"I had to pull away from that because I found myself being angry with her as a player and that experience carried over into our relationship," Barry Manning said. "So I pulled away from that a long time ago and just let her be her. And it worked out for the both of us. I can't be more proud than I am right now and I think she's just scratching the surface of her basketball career."
But it was during those interactions that she became comfortable getting constructive criticism and at times, she is her own harshest critic. Of the 24 games they've played so far, she feels the games against Georgia Southwestern (she had 18 points and 16 rebounds) and Flagler (18 points/13 rebounds) have been her best.
"I felt everything was clicking right in those games. I felt like I was contributing a lot those games," said Manning, who has five double-doubles this season while averaging 10.7 points and 7.2 rebounds per game. "I always want the best for this team. I am really passionate about the game, and while I am happy with the stats, I really just want to help this team grow."
Green said Manning is the kind of player coaches want to build their programs around. Manning said she is constantly working to improve her game, whether it's her footwork, figuring out ways to free herself when she's double teamed or finding ways to get the ball to her teammates, she's willing to put in the time and work to achieve that goal.
Teams across the conference have made adjustments specifically because of her game, and now she's working on coming up with countermoves to combat the double teams.
"She understands that a lot of coaches in the league respect our game," Green said. "She's seeing double teams, triple teams, and she's trying to learn how to perform against those teams. And I think she's getting better at that as well."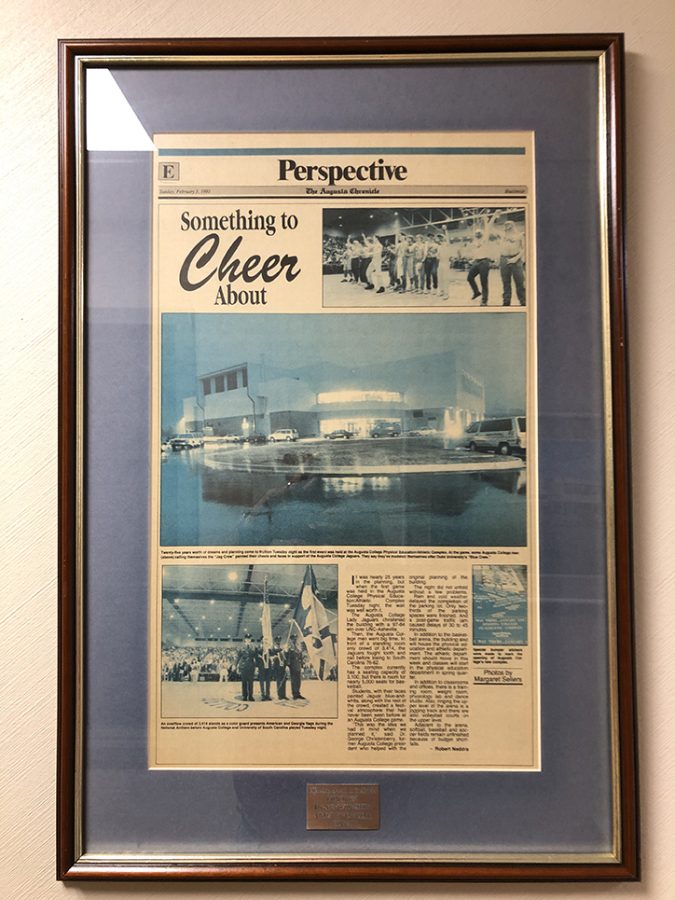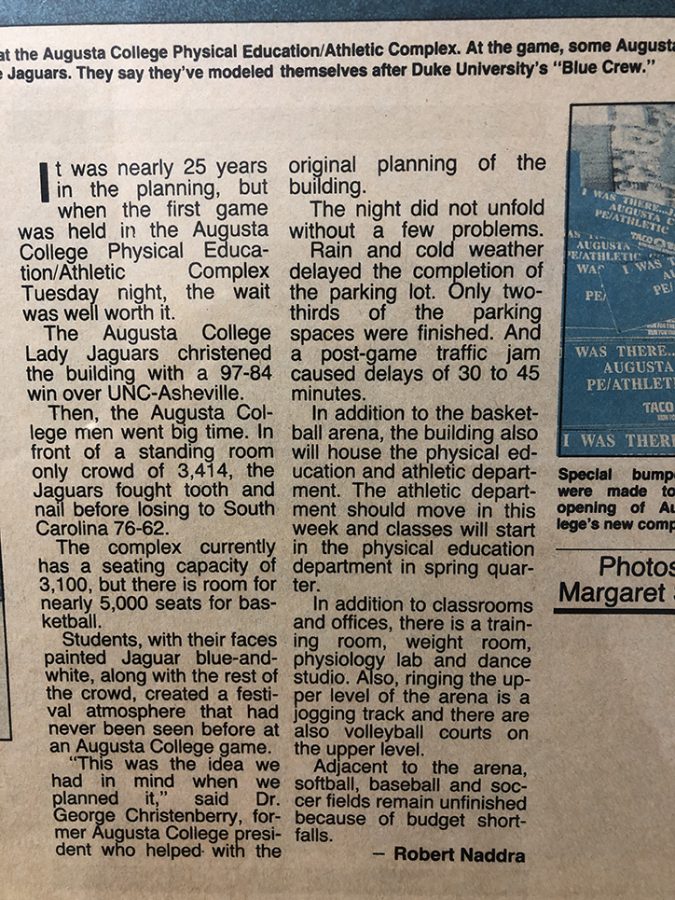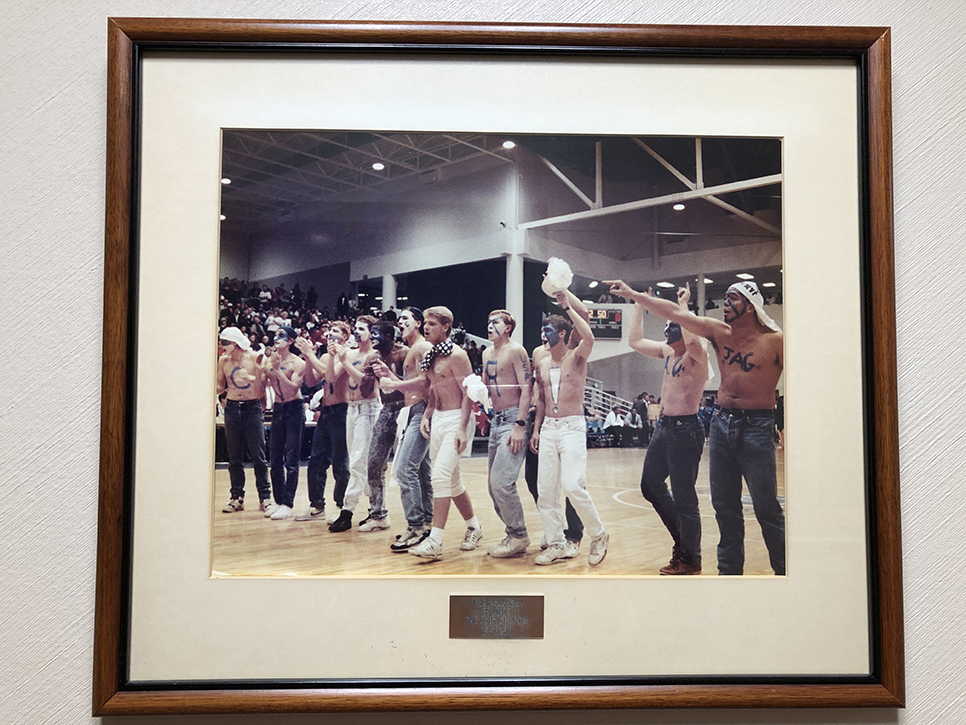 Kennedi Manning said it was "very cool" to learn about her father's connection to Christenberry Fieldhouse.
"I felt closer to him," she said.
Almost 30 years since his time on the court to his daughter's time now, Barry Manning said it's great that they both had the opportunity to play and it will definitely be something to talk about and reflect on four or five years down the road.
"Today, as a father, I am just proud of my kids and the life that they go through," he said. She's on a journey with basketball right now. But for me and mom, it's all about those academics. Hopefully they can go hand-in-hand when she leaves Augusta University."