The Greater Augusta Arts Council's Art the Box project has been one of the most visible and popular public arts projects to come around in a while, and several artists, including a husband and wife duo, have GRU connections.
Art the Box was an idea that came about last year, when the Arts Council secured funding to turn a total of 23 of the city's phone booth-sized traffic signal boxes into works of art.
Those boxes were officially revealed during June's First Friday festivities, though most of the boxes were finished before the end of May.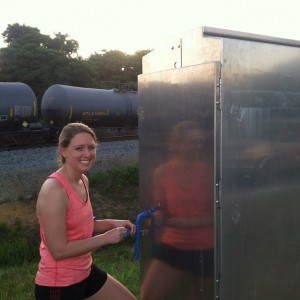 "We had nine days to complete them," said Colleen Beyer, an undergraduate advisor for the Art Department. "We learned if we were selected by the end of April and received our paint May 15."
Though Beyer has a bachelor's degree in studio art from West Georgia and a Master of Fine Arts in drawing and painting from Georgia Southern, the box project was the first time she'd worked in the elements.
"It was a lot of watching the Weather Channel to see when was a good time to paint," she said.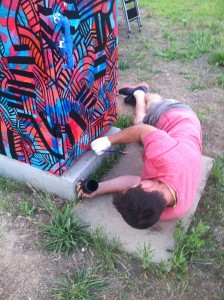 Her husband, Wesley Stewart, graduated from GRU's Art Department in 2007. As a working sculptor, he has more experience working outside.
"Working in a studio, if you close and lock your door, no one has access, so you can kind of confine the creative process to a room," he said. "Working outside, you've got the elements to deal with, and people who want to talk. I actually had a cop stop by and ask me what I was doing just to make sure I wasn't painting graffiti."
Beyer, whose box was across from Augusta Regional Airport, attracted her share of attention, too.
"One guy stopped and asked me if I had a permit and then told me I had to stop," she said. "I was like, 'No – it's for the Greater Augusta Arts Council. I swear I'm allowed to do this.'"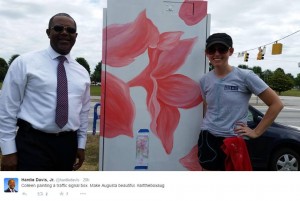 Eventually, the guy relented, but not before a big reveal of his own.
"It turns out he was actually the mayor, and he was just messing with me," she said. "We took a picture together and he tweeted it. That was fun, but he had me going for a couple of minutes."
The Health Sciences Campus has a box of its own, located at the corner of Laney-Walker and R.A. Dent, though its visibility has been temporarily curtailed by the Laney-Walker construction project.
Other artists with a GRU connection include Si-Long Chen, Stacy Atkins, Erica Pastecki, and Robbie Bellamy.
For a full list of Art the Box projects, visit the Greater Augusta Arts Council's website here.