Sexual Assault Awareness Month winds down after a successful series of events bringing attention to the victims of sexual assault.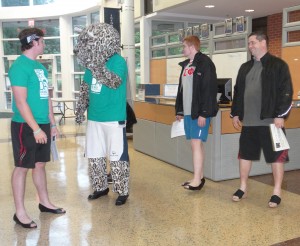 Approximately 250 people participated in the 6th Annual Take Back the Day 5K Run/Walk on April 18.
One of the companion events to the 5K was the #ItsOnUs Fun Run, where men were encouraged to show their support for the cause by wearing high-heeled shoes for a short race around the D. Douglas Barnard Jr. Amphitheatre.
Other events included the Take Back the Night Rally, a documentary film screening, and the Clothesline Project T-shirt and Postcard Making Event.
Check out this video supporting It's On Us.