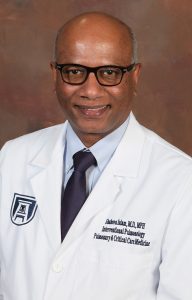 Dr. Shaheen Islam, chief of the Division of Pulmonary and Critical Care Medicine in the Department of Medicine at the Medical College of Georgia is the recipient of the 2018 Educator Award from the Association of Interventional Pulmonary Program Directors.
The award recognizes contributions to education in interventional pulmonology. Islam has served as a research, academic and/or clinical mentor to nearly 20 fellows, as well as numerous medical students and residents.
He came to MCG in July from The Ohio State University College of Medicine, where he was director of Interventional Pulmonology and the Interventional Pulmonology Fellowship Program. He is a national leader in interventional pulmonology and an expert in lung cancer and critical care.
Islam developed and directed the Interventional Pulmonology Fellowship program at Ohio State and has plans to do so at MCG. He helped launch MCG and Augusta University Health's new Interventional Pulmonology program, which uses the least invasive methods to diagnose lung cancer without surgery and with minimal risk of complications to patients.
He co-chairs the Education Committee of the Association of Interventional Pulmonology Program Directors. He chairs the Bronchoscopy Procedure Accreditation Committee of the American Association of Bronchology and Interventional Pulmonology and is a member of the association's Board of Directors and Interventional Pulmonology Board Certification Examination Development Committee. He is on the Board of Regents of the World Association of Bronchology and is a member of the association's Membership Committee. He also serves on the Global Tracheostomy Collaboration Database Committee and the Interventional/Chest Diagnostics Procedure Network of the American College of Chest Physicians.
Islam is academic editor of the journal Medicine and an editorial board member of the journals Clinical Research in Pulmonology, Austin Journal of Pulmonary and Respiratory Medicine and Pleura.
He is a 1988 graduate of Sir Salimullah Medical College at the University of Dhaka in Bangladesh. He completed an internal medicine residency at McLaren Regional Medical Center, a teaching hospital of Michigan State University, and a pulmonary and critical care medicine fellowship — including a year as chief fellow — at the Lahey Clinic in Burlington, Massachusetts. He completed an additional year of fellowship training in interventional pulmonology at the Lahey Clinic, and further procedural training in Germany and France. He has a master of public health degree with concentrations in epidemiology and biostatistics from Boston University and is triple boarded in pulmonary, critical care and interventional pulmonology.