This past summer, Nora Phillips, a senior majoring in public history at Augusta University, got the opportunity to work an internship at Redcliffe Plantation State Historic Site in Beech Island, South Carolina.
Phillips, who is seeking a Certificate in Museum Studies at Augusta University, fell in love with Redcliffe Plantation while taking a public history course last fall with Melissa DeVelvis, PhD, an assistant professor of history in Pamplin College of Arts, Humanities, and Social Sciences.
"Dr. DeVelvis took us out there on a field trip, and it was our semester project to design an exhibit for them for their stables," Phillips said. "I'm from the Augusta area, but I had never heard of Redcliffe Plantation before, but I fell in love with them last year, and I was able to do a summer internship with them. To me, it was the perfect opportunity because I have always loved history, and I love the National Park Service. So, to be able to combine both of them was an incredible opportunity. And now my internship has turned into a part-time position at Redcliffe."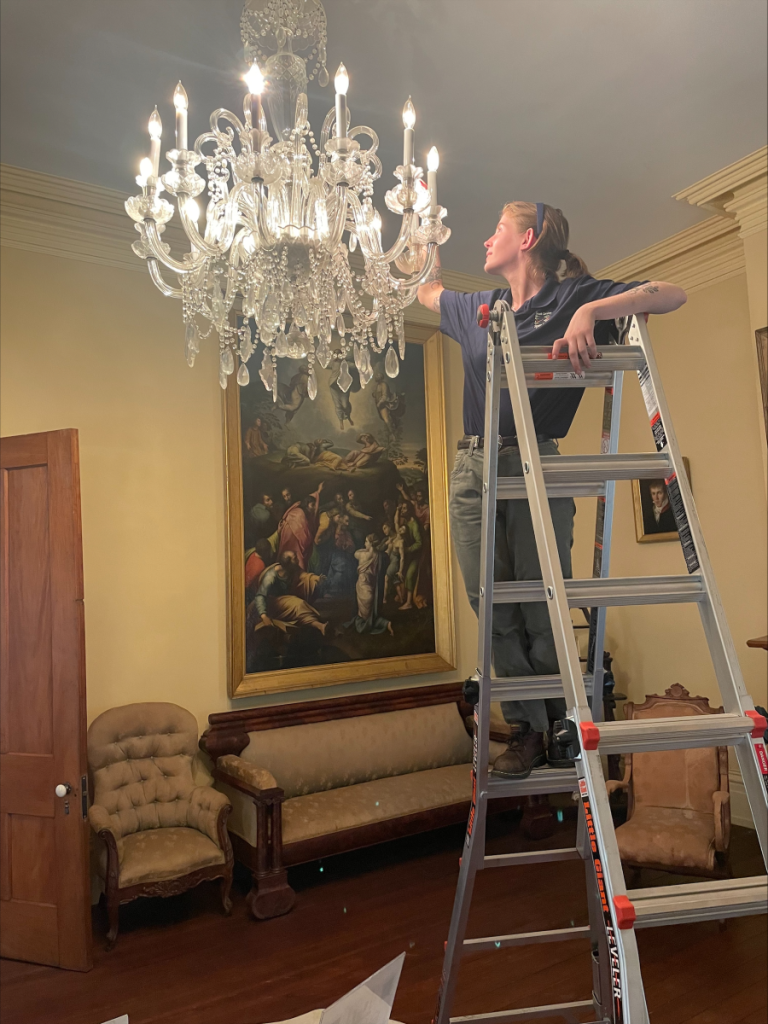 Redcliffe Plantation, which was constructed in 1859, was once the home of James Henry Hammond, a cotton planter, congressman, governor and senator from South Carolina.
The historic site also honors the numerous African-American families like the Henleys, Goodwins and Wigfalls who worked at the site as enslaved laborers and later as free men and women.
"Before I got this internship, I really thought that working in museums was more of like an abstract thing. I thought, 'Oh, that would be really cool. But there is no way. That's never going to happen,'" Phillips said. "But by getting into the museum studies program here at Augusta University, I realized like, 'No, you actually can go out and do this. It's not just something that would be a nice thing. You can actually do it and make this a career.'"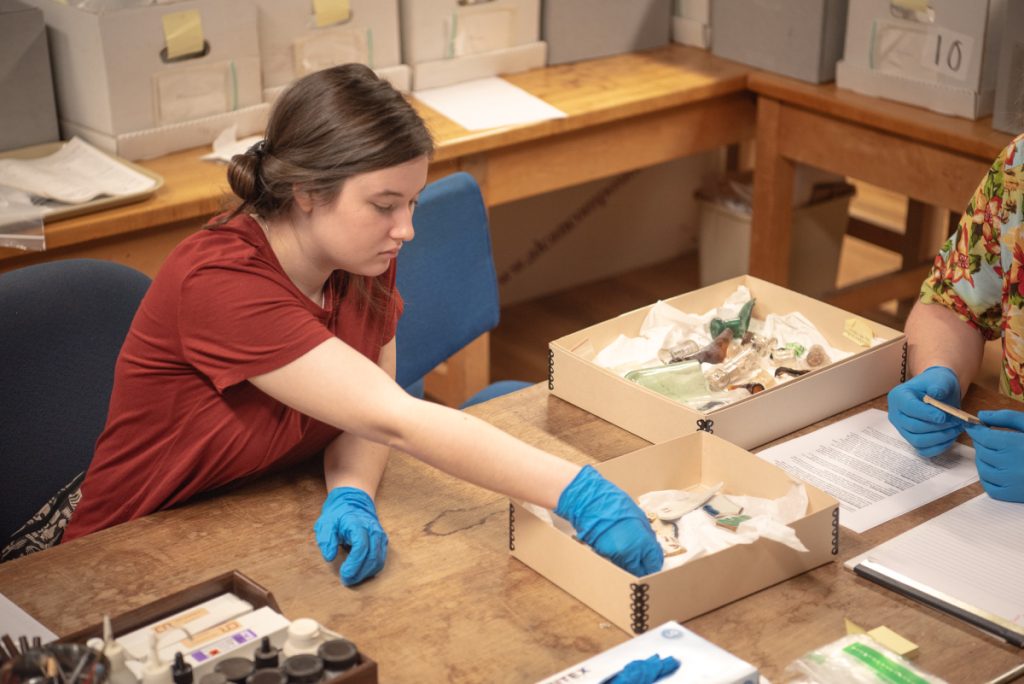 Stacey Thompson, the director of the Guard House Museum and a lecturer of museum studies at Augusta University, said internships play a crucial role in opening doors for students seeking a career in museums.
"The museum world is such a small world," said Thompson, who has worked as a museum professional for the past 15 years at institutions that include The American Museum of Natural History, The National Archives, the Morris Museum of Art and the Smithsonian National Anthropological Archives. "For example, Chelsea Stutz, who is the park manager at Redcliffe Plantation, used to work with me at the Morris Museum. But even internationally, it's a small world. Recently, I called a museum in Germany, and I happened to get someone that I used to work with in New York on the other line. It is a small universe."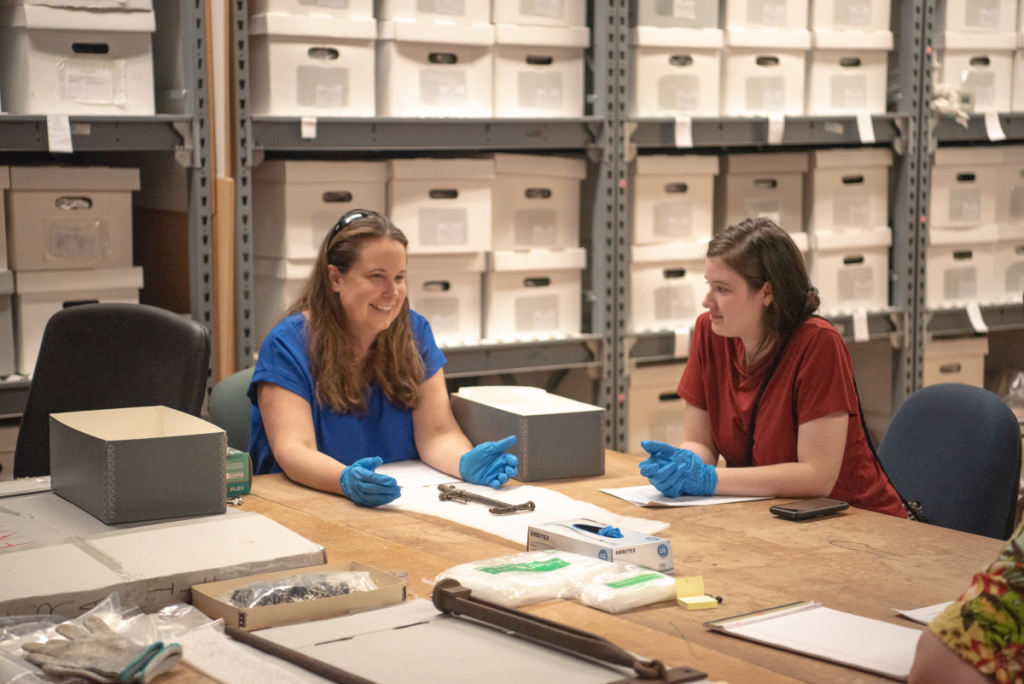 Making those connections in museums through internships can propel a student's chances of finding a position in the industry, Thompson said.
"I am a big supporter of internships," she said. "I had five or six internships when I was an undergrad and when I was in graduate school. It is really important in museum studies, if you want to get a job in a museum, because it is a very small network of professionals, and getting a good recommendation from one of these professionals to their colleagues is of the utmost importance when it comes to getting a job."'
Certificate open to all majors
The Certificate in Museum Studies at Augusta University began in 2020, and it introduces students to the range of careers in museums, to the history and evolution of museums over time and to current theories and debates in the museum profession, Thompson said. By seeking this certificate, students gain an understanding of the collection and care of objects, the creation, interpretation and evaluation of exhibits and the future of museums in a digital age, she said.
The three required courses to receive the Certificate in Museum Studies are Introduction to Museum Studies, Museum Management and Leadership and a mandatory internship. Students must also receive an additional nine credit hours from a variety of electives that include courses about grant writing, digital history, nonprofit management, archaeology and public history, Thompson said.
"This certificate is open to all majors," Thompson said. "So, if a student can fit it into their schedule, it is a certificate that they can add to their resume. It is also a post-baccalaureate certificate, which is also appealing to a lot of people. And I must say, this semester, we have one of the most diverse classes in museum studies. We have communication, biology, business and art majors, along with our history students."
Students seeking the Certificate in Museum Studies get to see both the business side and collection care involved in managing a museum, Thompson said.
"A lot of our students take public history, which really focuses on the curatorial side of telling history-based stories," she said. "And in museum studies, we look at art, history, natural history and children's museums, so we focus on all kinds of different types of museums."
While interning at Redcliffe Plantation, Phillips said she learned exactly how many duties a curator manages in a smaller state park.
"This summer, I was working with the curator there, Jordan Stenger," Phillips said. "And Jordan really does everything. She's kind of the curator and the collections manager. So, she really maintains the historic house on the property and watches everything from the humidity and temperature controls to the preservation of the house."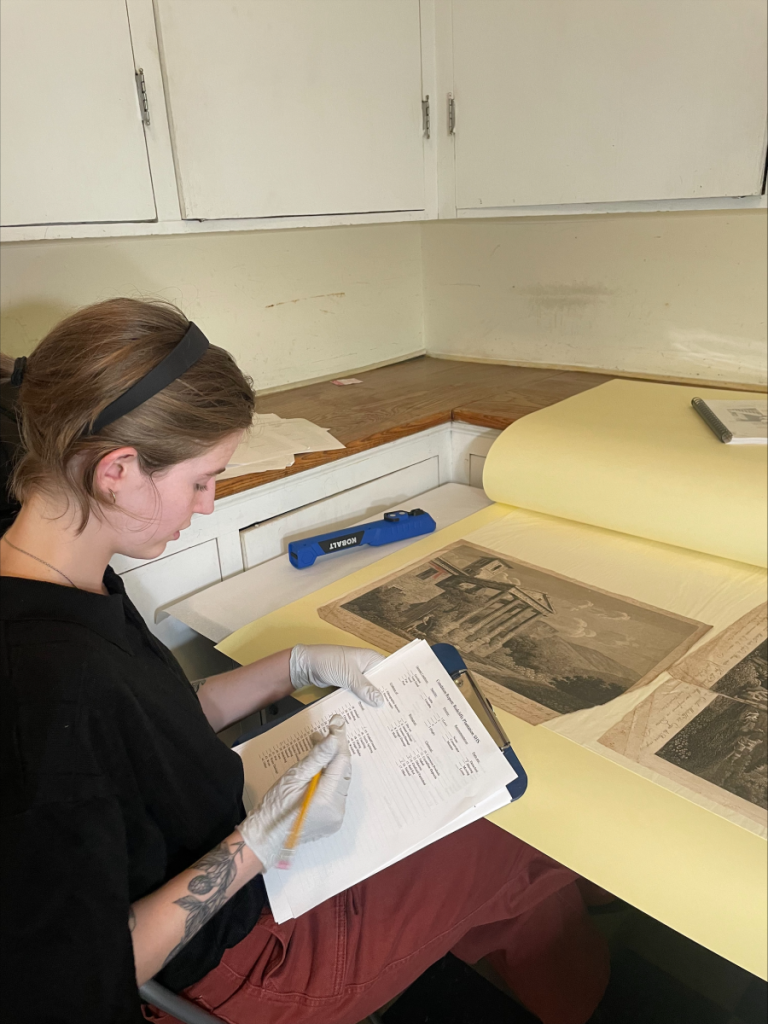 One of the biggest projects she was involved in this summer was recording the condition of documents and unframed art in the house in a flat file database, Phillips said.
"I got to really be hands-on with these pieces and really look at them and say, 'OK, what kind of damage is this? How is the condition?' And then I would enter that into the database," Phillips said. "I really just did a million different things, and I learned curators wear every single hat and deal with something new every single day."
For the love of history
Tess Way, a senior majoring in history, spent her summer interning at the Aiken County Historical Museum.
"This summer, I was working with Alyssa Magnone, the collections manager at the museum. And my main project was processing these photographs from the 1920s and 1930s," Way said. "The photos were all depicting events with the winter colonists, which is a big point in their history because these people would come down from the North, and they would have a winter colony, and they'd spend the winter in Aiken."
Way said her second project was helping the museum create mannequins to display a historic cheerleader outfit and a letterman jacket.
"The internship was really interesting because I got this multi-layer experience of processing these photos from the 1920s and 1930s and handling these objects, and then this more creative process of figuring out how to display these two objects in a way that is accurate to how they might have been worn," Way said. "I'm seeking this certificate because I'm very interested in archival work and through Professor Thompson, I was introduced to collections management. In the future, I would love to work in an art museum or an art archive because I love historical art."
Way said her love for museums started when she was a young child growing up in Arizona.
"My mother is an artist, and she has a degree in graphic design," Way said. "We used to go to museums all the time, but she struggled with her art career. So I have found that middle ground where I can enjoy both the art that I love and the history of the pieces and use my knowledge to better the world."
Real-world experience
Joseph Sloan, a senior in history, is currently completing an internship at the Augusta Jewish Museum.
"Over the summer I worked with administrator Angela Russo and Alena Rensch, now the collections manager at the Augusta Museum of History," Sloan said. "Both Alena and Angela were very helpful and assisted me with learning about the specifics of the museum's collections management policies and procedures."
Sloan said the internship has been fulfilling because he has been able apply what he has learned in class to the real world.
"It has been really interesting because the Augusta Jewish Museum is in the beginning stages of being a museum," Sloan said. "The museum is in two buildings because they are currently renovating a historic synagogue on Telfair Street. But I worked mostly in the administrative office, doing collection management. So that includes processing documents and doing archival work."
Sloan also had the opportunity to provide visitors with tours of the museum.
"The building adjacent to the synagogue is a cultural center where they give tours," he said. "This summer, they had a traveling exhibit about World War II. I assisted in giving tours, which included showing videos about the Holocaust and talking about ways we still live in the aftermath of war."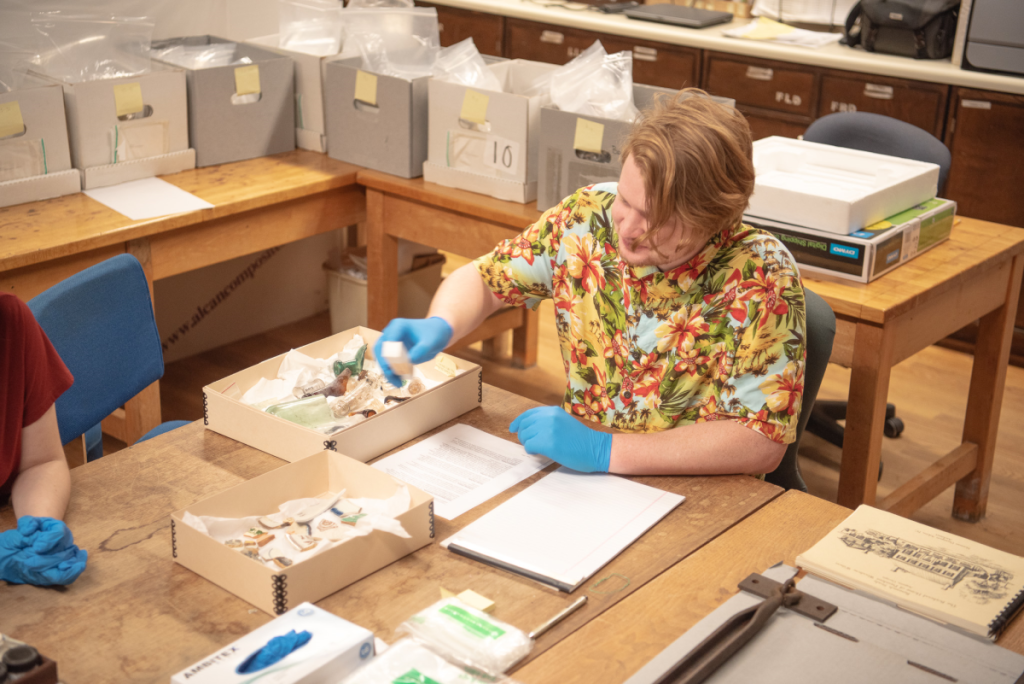 Sloan, who grew up in Harlem, Georgia, said interning at the Augusta Jewish Museum has helped him get hands-on experience with handling historic collections.
"I didn't really know a lot about the history of Augusta, actually, until I started working at the Augusta Jewish Museum," Sloan said. "It's really fascinating. I learned much more about the local history working there and hope to work in a museum when I graduate."
With these internships, students can find out what aspects of working for museums interest them the most, Thompson said.
"Having this kind of real-world, hands-on experience in museums really opens doors to future jobs and graduate programs, if they are interested in graduate school," Thompson said. "This kind of internship program gets their feet wet and points them in the right direction."
Phillips said she never expected her summer internship to turn into a part-time job at Redcliffe Plantation, so she is grateful for the opportunity.
"The concepts in museum studies are amazing to learn, but there's really nothing like just being able to go out in the field and do the work," she said. "There's so many things you can do in the field that you might not even talk about in the classroom."
"I just feel like it's really valuable to get that experience now before we graduate," she added. "Getting that first museum job I think is the hardest, but once you're in and you start getting experience and making connections, it can quickly turn into a full-time career."