Lung cancer is the most chronic form of cancer and the leading cause of cancer mortality in the world, according to studies by the American Lung Association. Despite recent advances in medical oncology, metastatic lung cancer remains incurable; however, a new discovery by Augusta University researchers has brought new hope to tackling the illness.
The discovery, which stems from a joint preclinic study conducted by scientists from the Dental College of Georgia and Medical College of Georgia at Augusta University and Medicinal Cannabis of Georgia, LLC, was published in the May 2023 issue of Human Cell.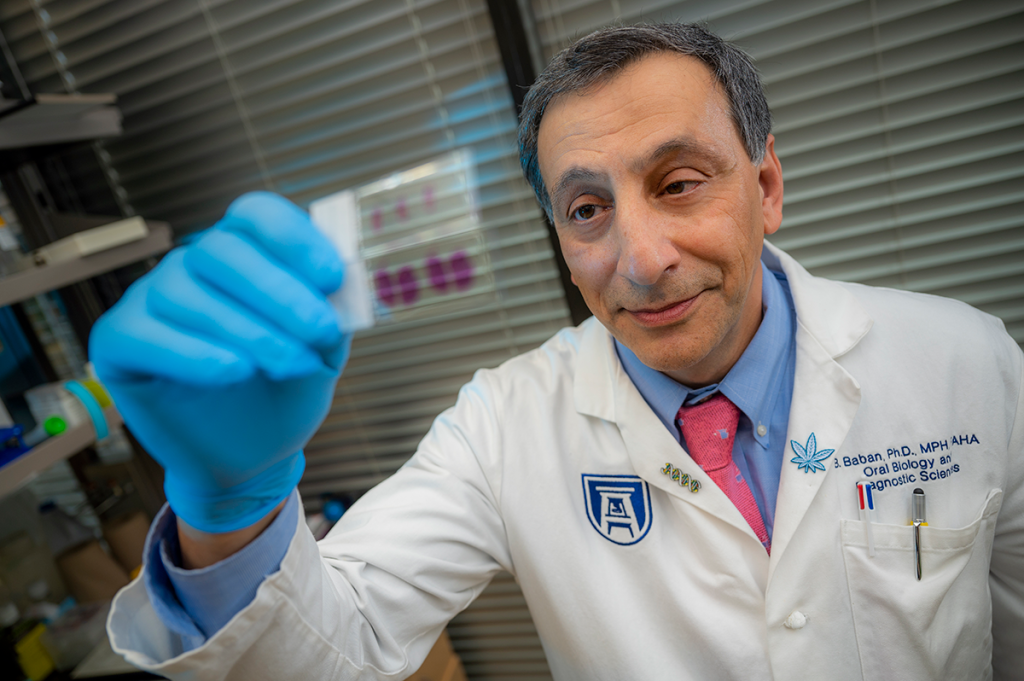 The study was led by Babak Baban, PhD, associate dean of research, immunologist and professor at DCG and one of the founders of Medicinal Cannabis of Georgia, an Augusta-based biomedical research and development company. Earlier this year, Baban was named a Regents' Entrepreneur by the University System of Georgia Board of Regents.
READ MORE: Augusta University faculty researchers named Regents' Entrepreneurs for advancing health care
The study revealed for the first time that inhalant cannabidiol, commonly referred to as CBD, can effectively impede growth of heterotopic lung cancer.
"The central core of our research has been studying inflammatory diseases and for that, we picked two different directions: one is centered around chronic inflammation in our system and the other is neurologic diseases such as dementia. Because of their impressive anti-inflammation effects, CBD, CBC and other cannabinoids have attracted our attention," Baban said.
"We have had some exciting findings before, and, based on those, we have built a new model for lung cancer. This is the first time the effect of the CBD has been assessed in inhalant format using an inhaler. This makes it more translatable into humans and more accurate," he said.
"Obviously, we are just as excited about our discoveries on mechanisms by which CBD worked. They help advance our understanding of the pathophysiology of lung cancer. We have seen some effects on plasticity and cancer stem cells, which appear to be crucial for tumors to regenerate and renew themselves."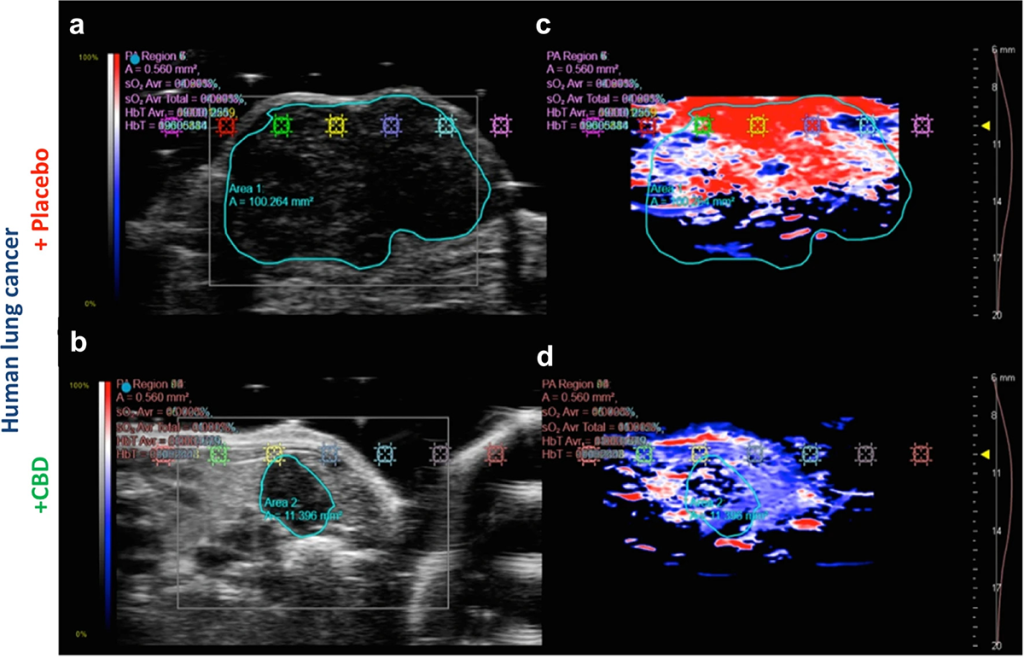 In the preclinic study, lung cancer was simulated using a heterotopic mouse model by implanting cells from a human lung cancer cell line into mice, which were then divided into groups and treated with either CBD or the placebo. The outcomes were measured by tumor sizing, molecular imaging and flow cytometric analysis.
Besides drastically reduced tumor size, the CBD group showed improved pathology, including a significant decrease of tumor stem cells. Importantly, tumor angiogenesis, which is the development of new blood cells, was severely compromised by CBD treatment. It is speculated that tumor angiogenesis is triggered when pro-angiogenic factors exceed anti-angiogenic components. Consistent with this, CBD treatment significantly disrupted expressions of pro-angiogenesis factors CD44, VEGF and P-selectin.
Angiogenesis and cancer stem cells both play crucial roles in the initiation and propagation of cancers, and the authors postulate that their inhibition is a key mechanism subserving CBD-mediated impediment to tumor growth.
Unlike most anti-angiogenesis drugs, inhalant CBD at the experimental dosage did not show any detectable side effects or toxicity. Taken together, the findings support the notion that inhalant CBD has enough beneficial effects as a viable complementary modality to be included in combination with current standard treatments for lung cancer. Additionally, inhalant CBD delivered using a precisely metered dose is non-invasive and has high translational value, warranting further research through clinical trials for lung cancer and possibly some other malignancies.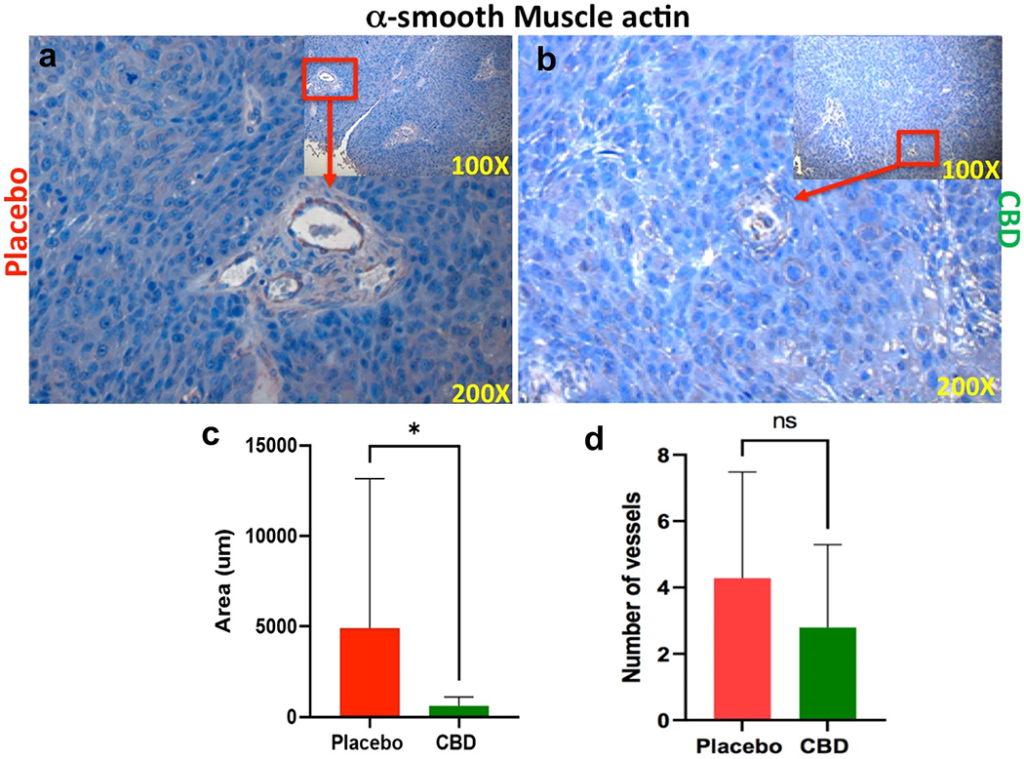 This discovery brings some new hope in the fight against lung cancer, researchers said.
"We are excited about the encouraging results of the study, which have the potential to add new therapeutic options for lung cancer patients," said Girindra Raval, MD, a clinical oncologist in the Georgia Cancer Center who specializes in treatment of lung cancer. "Cannabidiol can be a much-needed addition to the armamentarium in the fight against cancer. It impedes blood vessel formation and the ability of cancer cells to regenerate. These characteristics have the potential for this therapy to not only be effective in newly diagnosed cancers, but also in cancers that have recurred after conventional treatment."
Jack Yu, MD, a professor and surgeon at MCG, shared the same view.
"From the clinical perspectives, malignant tumors share several key features that make their eradication challenging," Yu said. "One of them is the ability to grow new blood vessels to rob nutrients from the normal adjacent tissues. This is why our findings of CBD suppression of new blood vessel formation in a human lung cancer model is so important."
CBD is an important component of cannabis plants, which has been anecdotally used for over 1,000 years in coping with many medical conditions, including epilepsy, pain and depression. Unlike THC, another major compound found in the cannabis plant that has psycho-stimulant effects, CBD is not psychoactive. Instead, it has been shown to be an effective anti-inflammatory reagent.
The interest in medical use of CBD has been boosted drastically around the globe by recent discoveries showing its health benefits in medical conditions ranging from cancer and aging to substance abuse. In fact, both the NIH and EU have released multiple announcements to encourage research on effectiveness and pathophysiologic mechanisms of medical use of CBD.
"The cannabis plant has over 113 cannabinoids, two of which are very famous: THC and cannabidiol, or CBD. We have conducted extensive research on medicinal cannabis since 2014, but cannabis has been utilized for medicinal purposes for over 1,000 years," Baban said. "It is not until recently we have started understanding a little better mechanisms how cannabidiols like CBD work."
Three years ago in 2020, Baban's research team invented CBD delivery as an inhalant. Since then, Baban and his colleagues have studied and compared its effectiveness in many different disease models.
"Our lab is a very exciting environment. The main focus has been on how CBD can be used it for the treatment of several models of disease," said the first author of the research article Évila Lopes Salles, DSC, a junior faculty in the Department of Oral Biology and Diagnostic Sciences at DCG and a scientist on Baban's research team. "It was very exciting to be able to use an inhaler to prevent tumor growth, and it was very exciting that this is a new delivery for getting CBD into the system. It's not as invasive as other methods, which is good for the patient, and you are able to carry it with convenience."
Raval saw extra benefits for treating lung cancer with inhalant CBD, adding, "Inhalation medication, which can fight against cancer, can be very effective in lung cancer, especially since we are delivering the drug directly to the site of cancer. It bypasses the need of continuous intravenous access, which is required for most chemotherapy drugs."
While CBD is not the only cannabis derivative that interests Baban and his colleagues, Phillip Wang, PhD, co-author of the study and chief scientist and co-founder of Medicinal Cannabis of Georgia, LLC, cautioned, "We still have a long way to go. We are obviously very excited, but we also know we have more study to do. We need extensive studies on the toxicology, pharmacokinetic and we need to go deeper in mechanistic study.
"Clearly, we cannot forget our goal. We will have to test the preclinical results in clinical trials and hopefully in the meantime further improve our approach. Nevertheless, we are very excited and motivated, because this preclinic study really gives us a lot of hope."