Alumni from the baseball and softball programs helped Augusta University kick off a new era under the lights on Sept. 24.
Hundreds of faculty, staff, community supporters, alumni and their families gathered at Jaguar Field for a ceremony to showcase the new, state-of-the-art LED lights that were installed over the summer.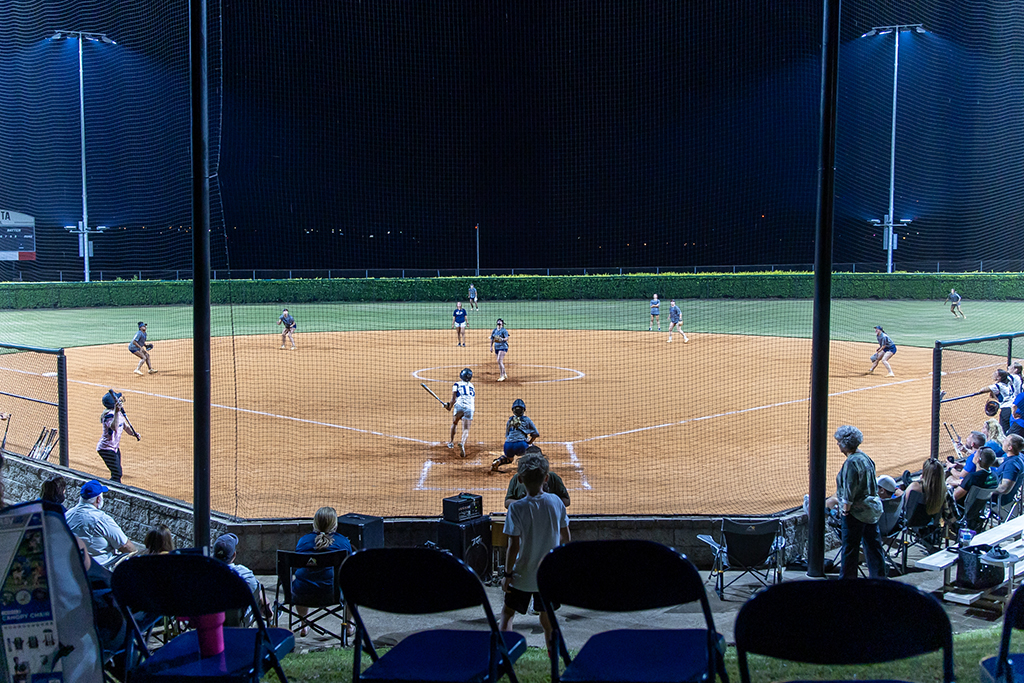 Partnering with Musco Lighting on the project, 14 poles and more than 100 fixtures were installed to match NCAA and professional ballpark light levels. Among the features to help improve the visibility and sightlines for competitors, visitors and broadcasts on both fields is Musco's Total Light Control [TLC] for LED system with BallTracker Technology. The system installed at AU mirrors the new system at SRP Park in North Augusta, home of the Augusta GreenJackets.
"This is a momentous day for Augusta University, as it marks the very first time our athletics fields have been illuminated by state-of-the-art LED lights. It's a milestone we've eagerly awaited, and it's finally here," AU President Brooks A. Keel, PhD, said in a ceremony marking the occasion. "I want to express my gratitude to every single one of you and to those who couldn't make it here tonight for your unwavering support of these two programs. To our alumni, our dedicated fans and our generous supporters, your commitment to Augusta University athletics has brought us to this point. We wouldn't be standing here beneath these dazzling lights without your belief in our vision."
Director of Athletics Ryan Erlacher said he sat down with all of the coaches last year when he arrived and asked for their wish lists. Baseball coach Chris Howell and softball coach Melissa Brocato put lights at the top of their lists.
"When Coach Howell and Coach Brocato shared the story of when they shared the news with their student-athletes and how they were overcome with emotion," Erlacher said. "Hearing those stories and seeing firsthand the impact of this project, I realized just how important these lights are to Augusta University Athletics. For us to recruit the best student-athletes across the country, we need to have the best facilities we could possibly offer. I can't tell you how excited I am for the future of baseball and softball here."
To date, the baseball program has amassed more than 1,100 victories with six coaches and more than 600 players, seven All-Americans, and one National Player of the Year Shannon Wilkerson, who was also named to the Rawlings/ABCA Gold Glove National and All-Region teams.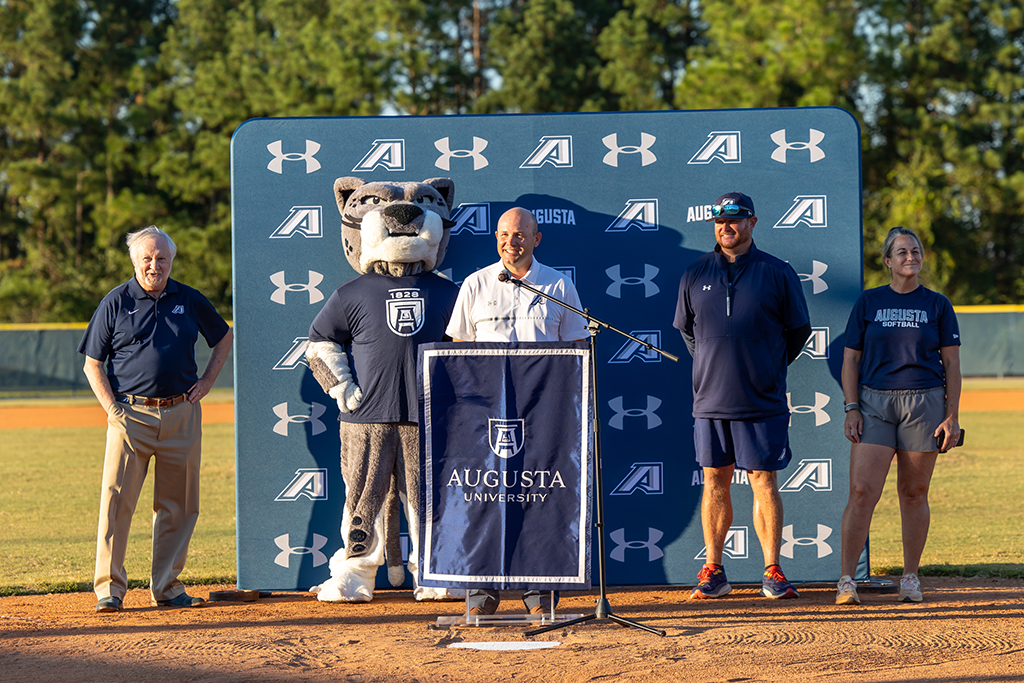 The Jaguars also featured two Peach Belt Conference Players of the Year (Chris Hodge and Wilkerson), as well as Sam Barth, who had one of Division II's longest hitting streaks (47 games). They have had 29 players go on to play professionally, including 10 players being selected in the Major League Baseball First-Year Player Draft.
The softball program has more than 700 wins with four coaches and more than 200 players. They have made six NCAA Tournament appearances and have had two players named Peach Belt Conference Pitcher (Amy Dumas) and Freshman (Kacee Camp Morris) of the Year, as well as one All-American (Kristen Jones).
Playing games with no lights made scheduling more difficult for coaches and players. Former baseball coach Skip Fite, who holds the record for all-time wins (623), said there was always a challenge of coordinating practices and games because students were in class or he was in the classroom teaching. Fite also said both programs had to race against the daylight and hope for no extra innings.
"This is amazing; I'm so proud of Augusta University and what they've done. The lights are just gorgeous, and I know that the players are proud of it too," Fite said.
Brocato, who will be entering her 26th season at AU, and Howell, who is entering his seventh, thanked Keel and Erlacher for their support and leadership in pushing the project forward. Both were also grateful for their former players showing up to offer their support.
"This is really all about you and for you. It's on your shoulders that we continue to build a program that we continue to have so many successes on the field and in the community, and in our efforts to produce quality character citizens for Augusta and in the state of Georgia, and I'm just so proud to be able to be here with you all tonight, and I'm so thankful for your support," Brocato said at the ceremony.
Softball alumna Morris, who still holds the record for most career hits with 233, was an Academic All-American during her collegiate career and had her No. 14 retired from the program. She remembers her teammates making the most of their days and the sunlight, from early morning or late afternoon practices and weight room sessions to midday games. She said being a college athlete forced you to manage your time well but even more so with a field that didn't have lights.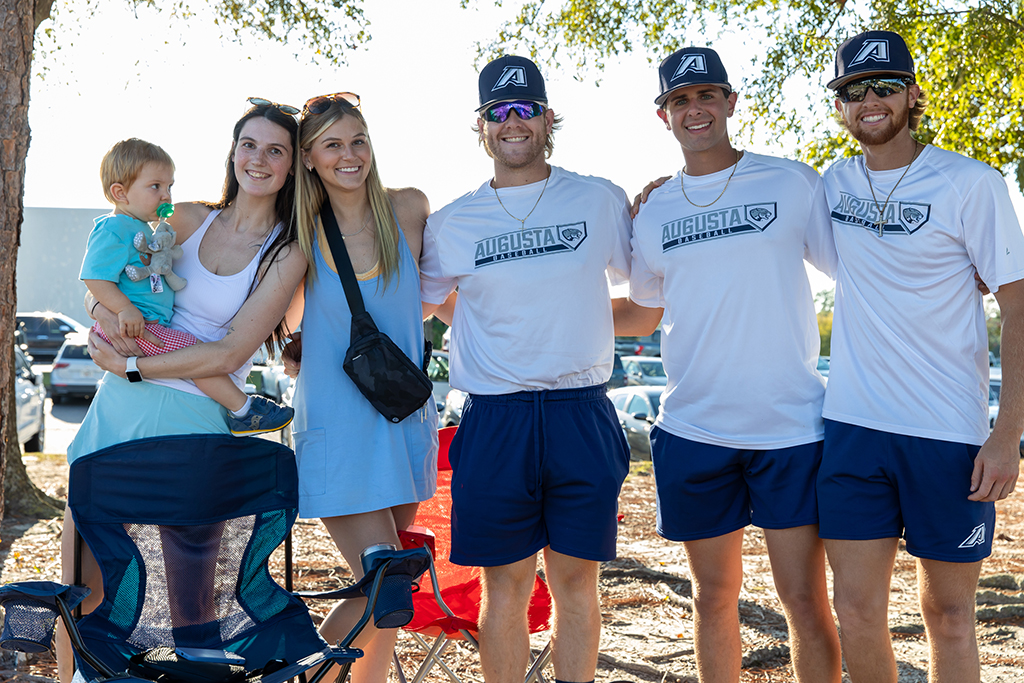 Morris cherishes her collegiate experience and the teammates she played with, as well as being coached by Brocato. She hopes the lights will help the community become more involved with the baseball and softball teams. "I think being able to play under the lights like this does expand the crowd and increase community involvement to support these girls," she said. "Any major upgrade like this brings in more talent, which brings in more fans, which brings in more money. And I think sometimes women's sports are overlooked, but things like this are going to help the program grow. I think it's an amazing advancement."
Current players, including sophomore catcher Sophie Baker and pitcher and graduate student Will Cantrell, are excited for night games this coming season, as well as the prospect of having more support from the community.
For Baker, she's excited about the chance to play during cooler temperatures at night because of all the gear she wears for her position. She was honored to have the opportunity with her teammates to compete against alumni in the ceremonial first softball game under the lights and said it was a "cool experience and eye opening to realize how quickly everything goes by. It makes me want to enjoy every last moment I have as a player."
Cantrell, who arrived in 2019, is happy the baseball team finally gets to join the rest of the Peach Belt Conference teams that have lights at their stadiums.
"It's very exciting. We have only been able to play night games when we go on the road, but now we can play games at 7 o'clock and have a bigger crowd," Cantrell said. "We want the city of Augusta to know we're here and we want to have everyone come and watch us. Seeing a big crowd will make us a lot more energized out on the field. The lights are really a game changer."