Two years ago, Augusta University women's golf coach Caroline Haase-Hegg traveled with Natalia Yoko to the NCAA Championships where she competed as an individual.
Last year's squad became the first in program history to reach the NCAA Division I Championships after a strong showing in the Athens Regional.
Haase-Hegg knows the program is trending in the right direction and feels it's going to continue with the mindset and makeup of this year's team.
"We've got a nice mix of experience and youth … and I like having enough strong upperclassmen leadership that I can lean on them to help set the standard but also bring in some new blood that can add some more competition," Haase-Hegg said.
This year's team features graduate student Napabhach Boon-In and junior Kennedy Carroll, who both helped the program win the Southland Conference championship the past two seasons and secure NCAA Regional berths.
Boon-In has been with the program for five years and has experienced personal growth not only on the course but with her relationship with Haase-Hegg. She said the two know "each other pretty well," and they each know how to communicate when working on fundamentals of her game. She said being an international player and having someone like Haase-Hegg in her corner has allowed her to focus on her tasks at hand while adjusting to life in the United States.
"I was struggling my freshman year because everything was new and it was definitely a culture shock coming here, but she's taught me how to handle it," Boon-In said.
Both Boon-In and Carroll are leaders that Haase-Hegg will be leaning on to help the rest of the roster navigate through the ups and downs of the season.
"I think we're taking a nice jump into the leadership role, Napa's been here for five [years], I've been here for three and seeing how the program has worked, we've got it under our belts, and we have a really nice relationship with Coach Caroline," Carroll said. "A big thing we're doing this year is holding each other accountable, staying on task every day but knowing that we have teammates to help push you and motivate you always makes it better."
They'll be joined by graduate student Emma Charles, who previously played at Anderson University and finished last season ranked 70th nationally by Golfstat while also helping the team to a No. 4 national ranking. Sophomores Daniela Burgos Ortega, Chiara Sola and Victoria Zheng are also returning after playing vital roles in last year's success.
Haase-Hegg, who is also adding freshmen Kiera Gonzalez-McCarthy, Zoe Pinillos and Ariana Carvalho, said they've discussed how they're going to practice, how they will look on the golf course and what they want other teams to see. But more importantly, the ninth-year coach has stressed creating a family atmosphere, so it's not always just work.
"We've talked a lot about our values as a team, we use the six values the university to identify words in conjunction with those that that apply to us as a golf program. And those are the standards that we're going to hold ourselves accountable to in and out of the building.
"This is not just where we practice, it's where the girls hang out and joke and study. And I think that our great facility and the relationship we have amongst the men's team and ourselves, where everyone's working together and getting along, is a special and unique situation that you don't see a lot of schools."
The Jaguars kicked off their season in Madison, Wisconsin in the Badger Invitational. They finished 13th after shooting 37-over-par 901 and were led by Zheng, who was in contention early and finished tied for 14th after shooting 71-74-74—219. Boon-In (76-76-74—224) tied for 34th while Carroll (75-78-76—224) and Gonzalez-McCarthy (74-79-76—224) tied for 53rd and Carvalho (78-80-79—237) tied for 80th.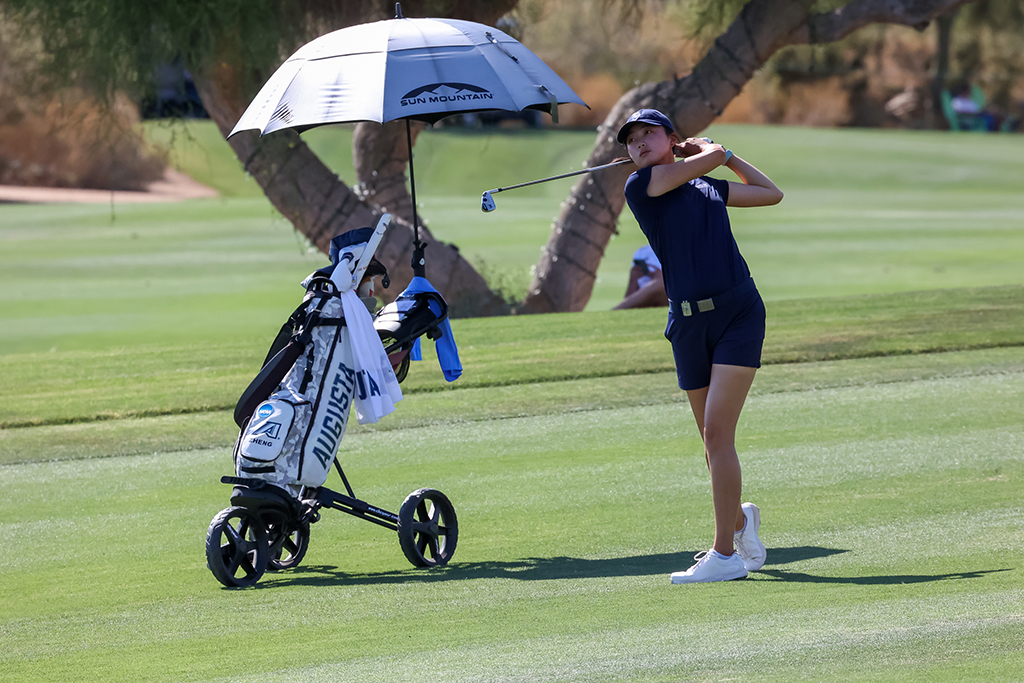 Haase-Hegg compiled a competitive schedule this year with the goal of putting her players against some of the top golfers in the country so they can measure where their game is at.
"Competition is the key to improvement and it's my goal to always compete against the best every time," she said. "Our fall is strong, but our spring is really strong. We're in top level events with top level competition. I'm very excited about that and see where we stack up."