AUGUSTA, Ga. – On Tuesday, March 3, area IHOP restaurants once again will be offering a free short stack of their famous buttermilk pancakes to each guest in recognition of National Pancake Day. This family-friendly tradition – now in its 10th year – aims to raise funds and awareness for Children's Hospital of Georgia, the local Children's Miracle Network Hospital.
For every short stack of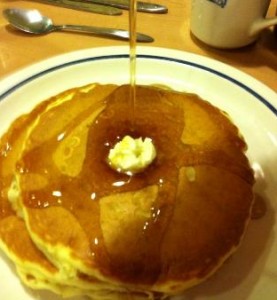 buttermilk pancakes served on National Pancake Day between 7 a.m. and 10 p.m., IHOP guests are invited to make a voluntary donation to CHOG in lieu of their meal cost. Since 2006, IHOP National Pancake Day has raised about $13 million to provide life-saving treatment, programs, and medical equipment for pediatric patients — including the nearly 100,000 children treated annually at CHOG.
"Thanks to the generosity of IHOP and its patrons through Pancake Day, we were able to purchase specialized physical therapy equipment for CHOG patients," said Catherine Stewart, CMN Development Officer. "We raised more than $3,100 last year, and we'd like to top that this year. The weather in our area has been cold and a little dreary lately, so this is the perfect time to get over to IHOP and enjoy a stack of warm pancakes."
Participating IHOP locations are located at: 3125 Peach Orchard Road, Augusta; 4361 Washington Road, Evans; and 180 Aiken Mall Drive, Aiken.
For more information, contact Catherine Stewart at castewart@gru.edu or by phone at 706-721-4004. To make an online donation to CHOG, visit www.IHOPpancakeday.com.
The 154-bed not-for-profit Children's Hospital of Georgia is the second largest children's hospital in the state, providing the highest level of pediatric critical care and neonatal intensive care, as well as a wide range of general and complex health care for children. Visit facebook.com/GAChildrens or follow on Twitter at twitter.com/GAChildrens
Find out why children's hospitals need community support, and learn about your member hospital, at www.CMNHospitals.org.