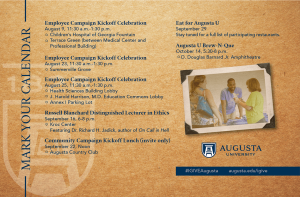 The IGIVE campaign got off to a great start with the on the Health Sciences Campus on Aug.9.
Three additional donation locations on the Health Sciences Campus will open Aug. 25: the Health Sciences Building lobby, the J. Harold Harrison, M.D. Education Commons lobby and the Annex 1 parking lot.
Those on Summerville will be able to give on Aug. 23 from 11:30 a.m. – 1:30 p.m. in the Summerville Grove.
Other IGIVE festivities include the Community Campaign Kickoff Luncheon (invitation only), the Eat for Augusta U event (Sept. 29) and the Russell Blanchard Distinguished Lecturer in Ethics (Sept. 16). The campaign will culminate on Oct. 14 at 5:30 p.m. with the fundraising total being announced during the Augusta U Brew-N-Que in the D. Douglas Barnard, Jr. Amphitheatre.
IGIVE is the annual campaign for giving to Augusta University and AUHealth. Gifts are directed to benefit any of the university's nine colleges, the health system, university athletics, the Children's Hospital of Georgia or other specific programs. For more information about the IGIVE campaign, visit augusta.edu/igive.
Continue to visit Jagwire for updates.