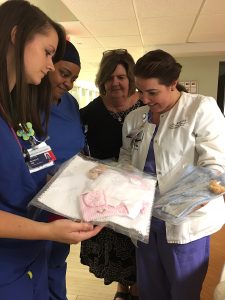 Patient- and Family-Centered Care sometimes happens when it's least expected. During what can be the most devastating time of a parent's life, the bereavement team and nursing staff at Augusta University Medical Center provide support to families who lose a baby during pregnancy.
The hospital recently received about a dozen specially-made micro preemie layettes from an organization called Holy Sews Inc. in Little Rock, Arkansas. The idea for this program came from a grieving mother who desired to help fill a need during loss.
The beautiful handmade clothing is designed to fit the tiniest babies so that labor and delivery nurses may offer parents a special outfit for when they hold their infant for the first and, sadly, the last time. The layettes were given to AUMC at no cost to show compassion to families experiencing the perinatal death of a child.
This program is one of several new ideas that Julie Ginn-Moretz, assistant vice president of PFCC and chief patient experience officer, brought with her when she returned to Augusta.