Media advisory for Friday, Nov. 11, 2016
CONTACT: Denise Parrish, 706-831-3148, mparrish@augusta.edu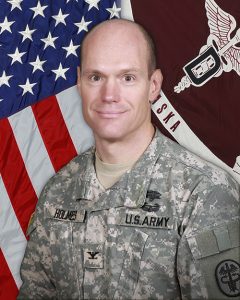 EVENT: Georgia War Veterans Nursing Home will hold a Veterans Day ceremony with special guest speaker Col. Robert L. Holmes with the U.S. Army Dental Health Activity at Fort Gordon. A highly decorated officer, Holmes earned his Masters of oral biology degree from the Medical College of Georgia in 2001, which is now The Dental College of Georgia at Augusta University. He's been in the service since 1984, having enlisted in the Illinois Army National Guard as a combat medic. His most recent assignment before Fort Gordon was director of operations at Northern Regional Dental Command, in Fort Belvoir, Virginia.
In addition, a group with Fort Gordon's U.S. Army Signal Corps Band will perform.
WHEN: 9 a.m. Friday, Nov. 11
LOCATION: Georgia War Veterans Nursing Home, 1101 15th St. Ceremony will take place in the Courtyard. Parking is available directly behind the building via 1060 Chaffee Ave. entrance.
OPPORTUNITIES: Video, photo and interview opportunities are available.
RSVP: Please RSVP to Denise Parrish at 706-831-3148 if you plan to cover this event.