One year ago, Augusta University's College of Allied Health Sciences established a writing circle with the intent of helping faculty and students set realistic writing goals, give and receive feedback from colleagues, make writing a habit, and create a supportive team in a non-competitive atmosphere.
"Helping faculty and students set realistic goals is important in academia, and it is something we all struggle with," said Dr. Jeane Silva, an assistant professor at the CAHS. "We set our goals for each session, so we know what we need to accomplish by the end of each session. It keeps us on track and helps us monitor our progress."
Back in 2018, Silva participated in a writing circle established by the Office of Faculty Development & Teaching Excellence. During that time, she worked on several projects and was highly productive; for that reason, she felt she needed to establish a space within CAHS to encourage faculty and students to write, support each other and network.
Kendra Bufkin is a first-year PhD student in the Applied Health Sciences program. She learned of the writing circle from Silva in class and has been part of it since the inception.
"My writing has become more organized, and the grammar and mechanics of my writing have improved significantly," she said.
Silva, along with Drs. Lufei Young and Deborah Jehu, have seen a lot of research that shows writing productivity increases with interaction and accountability.
Silva noted Catherine Brandon, MD, and her University of Michigan colleagues wrote a paper in 2015 that said "peer-support group increased scholarly productivity and provided a collegial approach to academic writing."
Silva also mentioned an article by Cheng Yuet, PharmD, that said the "formation of a writing group or writers' circle is one method to garner peer support or augment faculty mentorship programs with regards to scholarship."
Young, an associate professor at the College of Nursing, did not have a writing circle like this during her college or early professional years, and said she has seen benefits ranging from student success to advances in research and teaching productivity.
"Students are coached on writing skills, writing habits, effective learning, building teams, and collaborative scholarly activities. Some of the benefits for research include networking, developing grant ideas, troubleshooting, and identifying potential collaborators," Young said.
She also said the professors have been sharing teaching philosophies, teaching techniques and new skills, apps and software that might support student success and faculty development related to academic writing.
But Young thinks the writing circle has benefits beyond academia.
"Some of the benefits for the AU community include helping to promote student-faculty scholarship through building the academic writing community as well as helping with mental health and well-being," she said.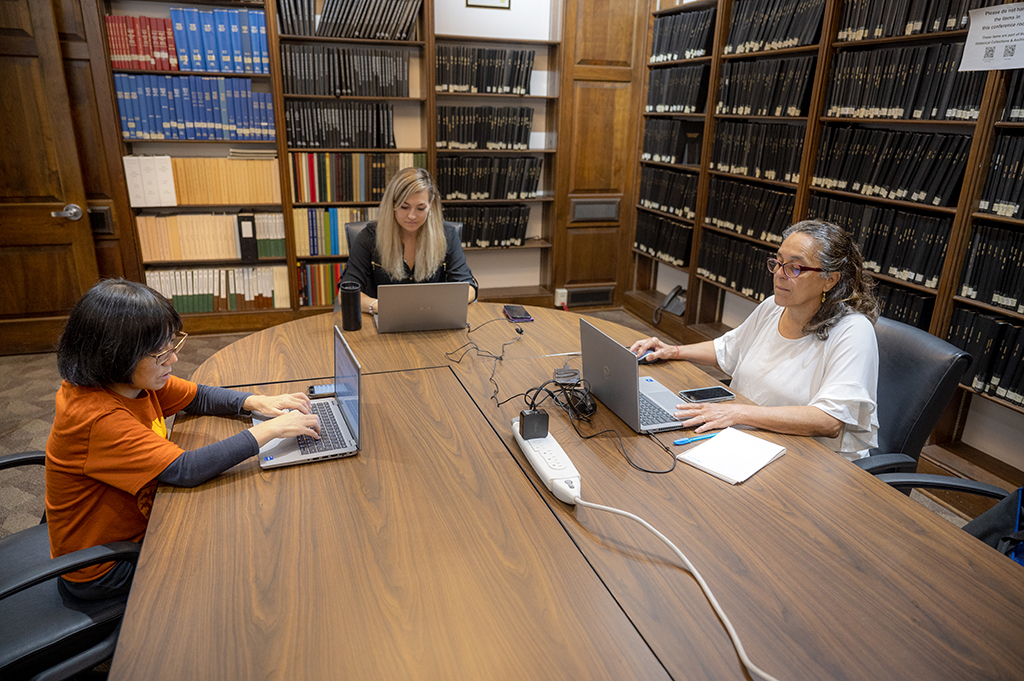 Young compares how the writing circle restores her well-being to the "Ctrl+Alt+Del" command used to reboot computers.
"For 'Ctrl,' it helps me recognize I am not in control of anything, but I can control my personal behavior, do my best, maximize my daily capacity, expect a good outcome, but not to worry about it. 'Alt' helps make adjustments of my mind, plan, behavior and expectations if things don't go as expected. And 'Delete' helps eliminate negative feelings and emotions and to not dwell on the past and just move on."
This is Jehu's first writing circle, which has given her the opportunity to meet and collaborate with new faculty.
"I met Dr. Young at the writing circle and we, along with other colleagues, applied for and successfully secured an Augusta University Intramural Grant," said Jehu, who is assistant professor for the Interdisciplinary Health Sciences Department.
"She and I are also working on another funded study together. This writing circle has helped foster interdisciplinary research. Additionally, as a new faculty member, both Drs. Silva and Young have been mentors to me and have guided me with my teaching and research activities. The PhD students who have attended have also received close mentorship and encouragement from the faculty on their dissertation projects. I enjoy attending the writing circle because it is a safe space for faculty and students to share, supporting a positive mental health environment."
Silva appreciates the support, knowledge and experience the two have brought to the circle. She wants all to know they are here to help however they can.
"We are here to support anyone who wants to make a difference by making writing a habit," Silva said.
The writing circle meets from 11 a.m. to 2 p.m. every Tuesday and Thursday on the Health Sciences Campus in Greenblatt Library. It is open to all students and faculty in the health sciences field. For more information, email Silva.