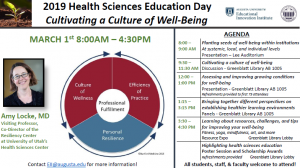 On March 1, the Medical College of Georgia's Educational Innovation Institute (EII) will host the 2019 Health Sciences Education Day to highlight opportunities and actions institutions and individuals can take to promote their well-being.
The event begins at 8 a.m. in the Lee Auditorium with the opening presentation titled "Planting Seeds of Well-Being Within Institutions."
In 2010 the EII began their annual Education Day workshop for their teaching faculty. Having grown over the years, Education Day expanded to a full day of events and invited AU health professions faculty to attend.
The theme of this year's event is "Cultivating a Culture of Well-Being." It was chosen in support of the initiation of several well-being councils across the institution in the last year. Each council is working to be proactive in fostering well-being across AU Health, AU Medical Associates, MCG, the university and students.
Dr. Amy Locke will be the guest speaker at this year's event. Director of the Resiliency Center at the University of Utah's Health Sciences Center, Locke will discuss models and national trends related to well-being. Specifically, Locke will speak on how well-being, resiliency and reducing burnout require a multifaceted approach in institutional, program and individual models.
The EII at MCG was created to foster teaching excellence and to systematically study best practices in health sciences education. The choice for well-being to be the theme is significant as it reinforces current efforts and ensures discussion of well-being extends far into the learning environment.
The sessions are open to all AU faculty, staff and students. This interdisciplinary approach has enabled educators from across the campus to learn how their colleagues are addressing common teaching issues.
For more information contact the Educational Innovation Institute.