Tyree Myers knew he found a new home after he made his official visit to Augusta University four years ago.
The senior guard from Baltimore fell in love with the aesthetics and layout of the university, calling it "just a different type of campus." He liked that classes were held on multiple campuses and that there was a separate location for the gymnasium and workout facilities.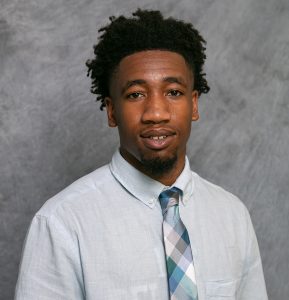 Myers has relished his time as a Jaguar.
"I've liked it ever since I've got down here," said Myers, who will graduate in the spring with an accounting degree. "I've been excelling in my classes. They have advisors that work with you and the teachers are the same way. If I need help or if I need to see them out of the classroom, they'll find a way to meet with me whether it's on Teams or in person in their office. I really liked that."
Myers credits Coach Dip Metress for helping him succeed.
"As far as on the court, I love it that Dip holds me accountable. And I love how he just wants to win. That's the best part for me because I like to win."
Myers has been a key member of the Jaguars men's basketball team, which is 13-2 and ranked 17th in the nation in Division II. He's averaging close to 26 minutes per game, but as Metress points out, he's a rare breed of player who puts his team first.
"When I recruited him from high school, his coach told us he's about two things, winning and playing basketball," Metress said. "He's always been a good student; that was never a question. When he came for his visit, he flew down with his parents because it was a family decision.
"I had seen him on film and called a friend to say I was looking for a point guard, and he responded, 'Well, there are point guards and then points guards.' He's a point guard. He's going to distribute the ball. He played with some great players that are in the NBA right now, but they threw him the ball every time to bring up the court because he is that guy that sets the table. I knew when we got him that he was going to be a true point guard. He just epitomizes leadership."
Metress said Myers knows how to turn on the gym lights because "he's usually one of the first people here."
"He knows he's got commitments academically and at his work, so he knows in order for me to get a workout in, I have to do it at this time in the morning," Metress said.
"He's not a guy that talks about coming to the gym. He just he shows up every day and does it. When it comes to practice, I know he's coming right from class or work, and it takes him a few minutes to get mentally ready to go. I remember one of these years and he just pointed up and said, 'I want another banner.' He's all about the team and winning."
As a leader, Myers knows he has certain commitments to his studies and to his team. As hard as he works on the basketball court, he works twice as hard in the classroom to make sure he's there for his teammates on game day.
Three days a week for the past year, he has worked out at 7:40 a.m. before getting ready for work. For five hours, he works at Fuller, Frost & Associates — a local tax, accounting and business advisory firm — to get hands-on experience. Afterward, he goes to class for almost four hours before coming back to Christenberry Fieldhouse for team practice.
Susan Murray, PhD, is an assistant professor of accounting who has been working at AU for over four years. She first met Myers when he took her cost accounting course in fall 2021, and admires the work he put into the class after struggling at first.
"Instead of accepting that performance, he doubled down and started coming to office hours where we would review notes and go over problems until he mastered the material," Murray said. "Routinely coming to office hours is always encouraged, but few students actually carry through and come as Tyree did — I really admire that about him. To have the maturity to be so proactive is quite unusual, especially when you look at all other major time commitments he has with sports and his internship at an accounting firm."
Murray said most professors are accessible, but "can't force students to come to office hours."
"We are literally sitting in our offices several hours a week hoping someone comes by," she said. "Tyree took the initiative to come get help and that quality will stand him in good stead for his future career."
Myers, who said he liked math growing up, first became interested in accounting after taking a class in high school. He said he didn't know what he wanted to major in, but both of his parents majored in accounting in college, so he decided to go that route.
"My parents have been big supporters for me and following them in accounting wasn't pushed on me; it was something I wanted to do," he said. "They are there to help any time I need them, but the biggest piece of advice they've given me is to study. They said you can't just go there and just go to class and think you know everything and expect to graduate. Study, study, study."
When the pandemic began in 2020 and classes went virtual, Myers needed little motivation to push forward.
"I didn't do all this work for nothing," said Myers, who noted when he came to Augusta University, he was determined to be just as much a student as he was an athlete. "We're getting toward the end and it's crazy because yesterday I was just a freshman. And now, I'm a senior and I almost have my degree. There's no slacking off now."
Murray encourages Myers to continue with his strong work ethic and skills, saying "the sky is the limit" for him.
Myers said his time as a Jaguar has been memorable and exciting.
"Quite so much has gone on these past four years. I've won a championship as a freshman to losing in the playoffs. There's just a lot of things that went on as far as basketball and school," Myers said. "The memories I have with my teammates, my friends, coach — it's been great.
"And it's been exciting here as well," Myers added. "To how we played basketball, to how I got an internship at Fuller, Frost & Associates. I never would have thought I would have that, but an opportunity opened up for me. It's been awesome."