Every year the American Counseling Association hosts the Graduate Student Awards of Excellence, recognizing and rewarding outstanding students and the work they've done preparing for careers as professional counselors.
This year, Augusta University's Kathryn Towns, Kate Crockett and Kellyn Brooks brought home first place in the ACA Graduate Student Ethics Award for master's degree students category for their team essay, "Application of the Counselor Values-Based Conflict Model: A Case Study."
The essay outlined a counselor's struggle to help his clients, whose interest in the sexual practice of bondage, discipline, sadism and masochism have caused his personal beliefs to interfere with his professional guidance.
"I was really excited about the prompt because it's about couples and family work, and that's a passion of mine," Towns said. "It was a big challenge because there isn't a ton of research on this particular stigmatized population, which we think gave our essay an edge compared to past winners."
The group built the foundation of their essay from the ACA's Code of Ethics and provided a course of action that addressed both the counselor's personal and professional sides of the dilemma.
"In our profession — I teach ethics — we do not give up on a client, or pass along a client just because they present us with an issue or topic we're uncomfortable with," said Dr. Denise Lenares-Solomon, the team's faculty adviser. "We try to work through, get more credentials or training or research in order to help our clients."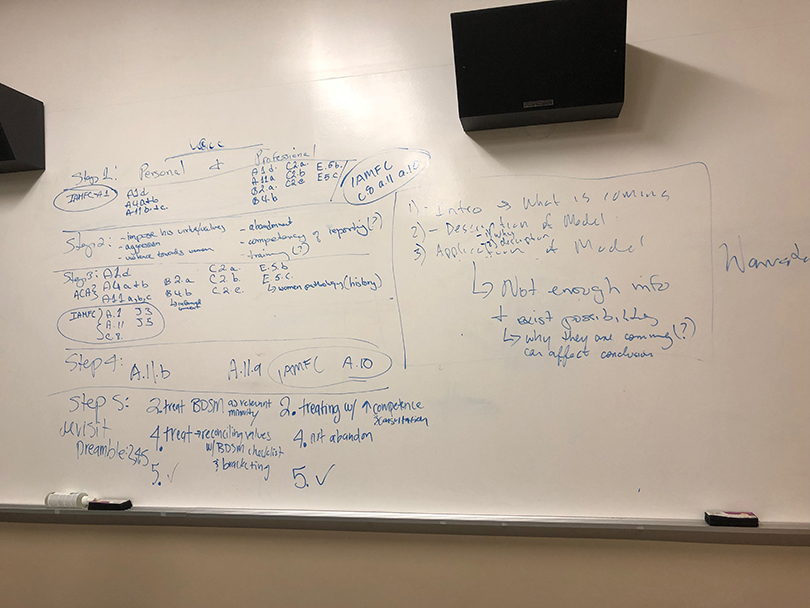 Their complete essay is over 30 pages and pushed all three counselors to expand their knowledge in an area with little research.
"The product we have is one that we're thrilled about, and one that we want to continue working with," Towns said.
The achievement of Towns, Crockett and Brooks placed AU on a national stage and illustrates the dedication and care that exists throughout the Department of Advanced Studies and Innovation, home to the Master of Education in Counselor Education degree.
"It's really good recognition for our program, in general," said Brooks about their recent win. "Hopefully it helps to get the word out and makes people want to come here."
The Department of Advanced Studies and Innovation celebrated their recent graduates with an Induction Ceremony Wednesday, May 8, on the Summerville Campus.
For more information about the Master of Education in Counselor Education at Augusta University, visit the Department of Advanced Studies and Innovation or call 706-729-2443.