When Dazya Ingram came to Augusta University, she did not realize she would leave a legacy.
Ingram and her classmates will be a part of the inaugural graduating class of the Bachelor of Science in Health Services degree program in the College of Allied Health Sciences on May 10.
Ingram says she initially desired to become a dentist. However, as she says, "Childhood dreams change as students grow in their collegiate careers and begin to learn who they are as young adults."
Growing up, Ingram faced many challenges, such as moving several times and changing schools often due to her parents' military careers. Because of this, she learned resilience and the ability to adapt to change. Ultimately, her family settled in Georgia, where she graduated from Liberty County High School in Hinesville. During Ingram's junior year of high school, she began searching for the perfect college.
When she visited Augusta University, she fell in love with the atmosphere, people, school size and most importantly, the location. For the first time in Ingram's life, she would be settled in one place for more than two years. She was excited about the opportunity to attend the university.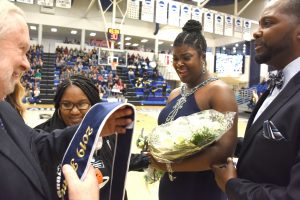 Upon enrollment, Ingram declared her major as pre-cell and molecular biology with the intention of becoming a dentist. During her sophomore year, she realized she no longer had a passion for dentistry. Through volunteer opportunities, Ingram developed a strong desire to help people with health care needs.
When Ingram learned a new major was being developed in the College of Allied Health Sciences, the Bachelor of Science in Health Services (BSHS), she immediately began to explore potential career paths in this field. She realized this was the degree she wanted to pursue.
While at Augusta University, Ingram became active in several organizations such as Delta Sigma Theta Sorority Incorporated, She Blossoms, Black Student Union, and National Society of Leadership and Success. Ingram was also crowned 2019 homecoming queen, something she describes as one of the most rewarding experiences of her life.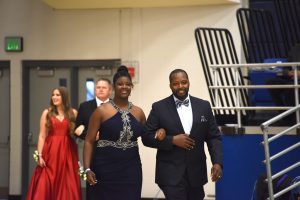 Ingram credits her health services peers, professors, staff and faculty for a portion of her success. She describes the health services major as having an engaging curriculum that challenged her but also gave her the opportunity to build upon her knowledge in the discipline. She enjoyed the small class sizes, which help foster personal relationships with students and professors.
After graduation, Ingram plans to continue her collegiate career here at Augusta University as a graduate student in the Public Health program. She is also hopeful her career will lead to opportunities to help people obtain resources to fulfill basic needs and fight epidemics affecting communities around the world.
When Ingram graduates May 10, she will be leaving a legacy not only as royalty, but also as a trailblazer for students who enroll in Health Services for years to come.