Volunteers are mission critical to supporting student- and patient-focused efforts across the Augusta University campus. The Office of Volunteer Services and Community Engagement is proud to announce that Lt. Col. Julianna Rodriguez, a volunteer in the School of Computer and Cyber Sciences, has been recognized as this year's Augusta University Volunteer of the Year, the university's highest volunteer honor.
She was selected out of 11 finalists who were nominated from a wide range of university and health system departments. Rodriguez was celebrated for her volunteerism achievements earlier this month, in a special ceremony at the Georgia Cyber Center organized by the Office of Volunteer Services and Community Engagement and attended by the school's staff and leadership.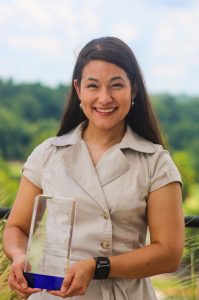 By day, Rodriguez serves as an active duty lieutenant colonel in the United States Army, stationed at Fort Gordon. By night, Rodriguez spends her time volunteering and encouraging youth in our area to pursue cybersecurity career paths through outreach activities like the Girls Who Code program. Girls Who Code aims to increase diversity and the number of women in the cyber field. The program introduces girls from sixth through 12th grades to computing, basic concepts of coding, principles of web pages and apps, coding for animations, and ethics of hacking.
Rodriguez has played a major role in the development of AU's Girls Who Code program, "CodeHoppers," as the lead volunteer since its founding during the 2016-17 academic year. Rodriguez sums up her involvement with Girls Who Code in three words: motivation, networking and resilience.
"In August of 2016, I asked a question of a women's panel at Augusta TechNet on how to help encourage girls in our community to get into cyber. Initially, the question was understood incorrectly by several speakers on the panel who thought I was asking how I myself could get support," Rodriguez explains. "Ms. Joanne Sexton, the founding director of Augusta University's Cyber Institute, was on the panel, understood my question, and followed up with me afterward to confirm my intent."
Following Rodriguez's connection with Sexton, the Cyber Institute set out to create the Girls Who Code club. The Girls Who Code program was developed as a part of the Cyber Institute's K-12 outreach initiative within Augusta University's Center of Academic Excellence in Cyber Defense. The program was managed by Karen Ribble, Rodriguez's nominator, as the club liaison. According to Ribble, Rodriguez's professionalism was one of many things that stood out the most in the early days of working together.
"She has a role in the U.S. Army as one of the few females in a primarily male-dominated field. She's very focused and exudes professionalism, not only as a soldier but also as an instructor," says Ribble.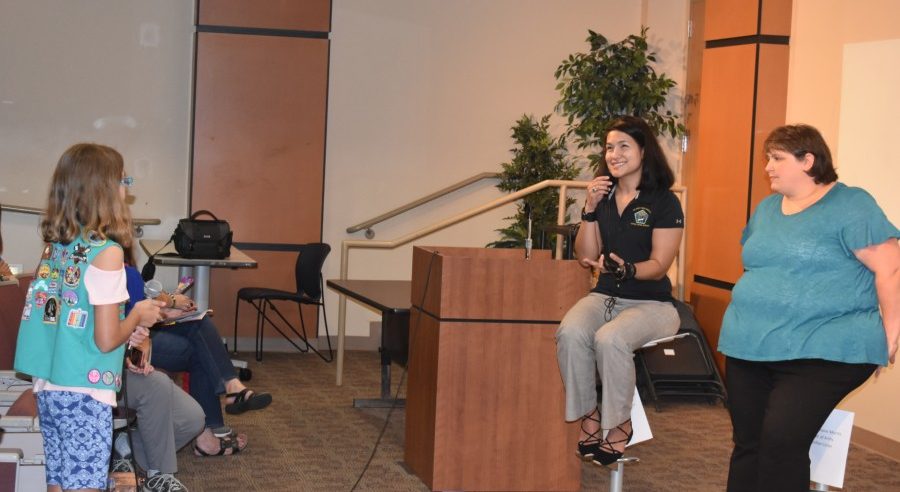 Rodriguez's contributions to the Girls Who Code program extend far beyond her being the lead volunteer. She is also the technical leader of the program, she is in charge of the curriculum and she herself developed a substantial part of the technical content of the program. In working with the participants, Rodriguez thoughtfully adjusts the program to ensure the overall progress of the group and to accommodate the needs of the girls in each semester's cohort. This year, Rodriguez dedicated substantial effort to revising and improving the technical program, all while transitioning to a new role at Fort Gordon and earning a promotion to lieutenant colonel.
When asked about her favorite aspect of working with the CodeHoppers, Rodriguez shared, "The best part has been seeing girls' faces light up when learning new concepts — 'lightbulb' moments — and also to see the creativity and support that our great facilitator volunteers apply to helping the girls."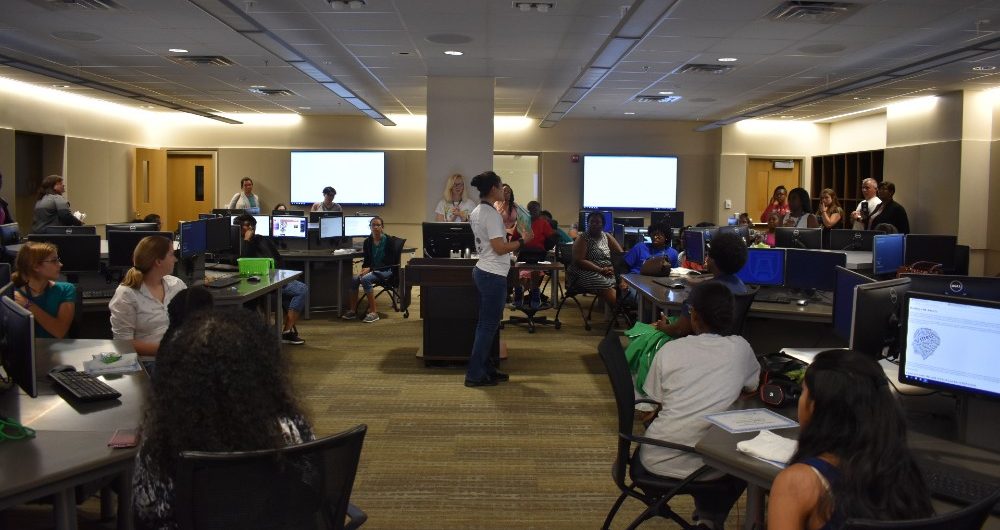 Since the first Girls Who Code cohort in 2017, Rodriguez has shared her knowledge of coding, computer science and cybersecurity with over 100 girls in the greater Augusta area.
The leadership of the School of Computer and Cyber Sciences is nothing less than impressed with Rodriguez's contributions to the program.
"Julianna is very deserving of this Volunteer of the Year recognition," says Steven Weldon, director of the Cyber Institute. "Augusta University and our CodeHoppers Club benefit greatly from the many hours Julianna so freely gives of her off-duty time. She is truly making a difference in so many lives."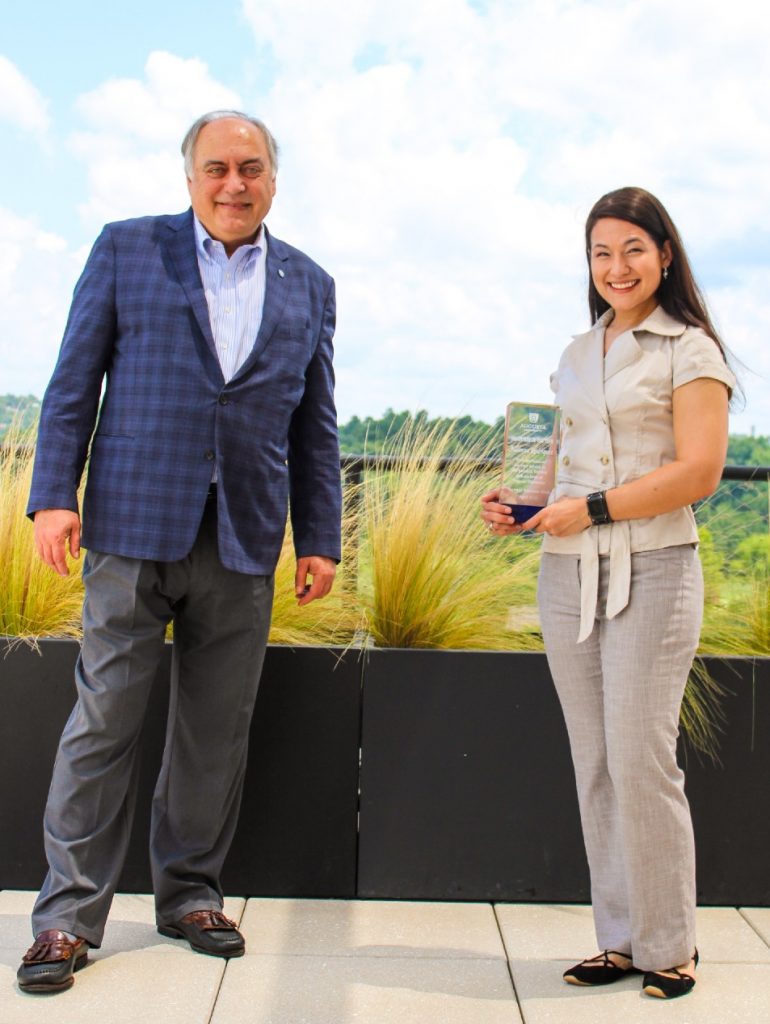 School of Computer and Cyber Sciences Dean, Dr. Alex Schwarzmann, adds to this accolade: "Julianna Rodriguez has the right technical expertise and background, as well as energy and passion, to be the technical lead of the program. Her depth of knowledge in computer science and engineering, and her contagious enthusiasm, is exactly what is needed to inspire girls, to encourage them to take first steps into the world of computing, and to motivate them to consider careers in computing."
In addition to her time spent with AU's Girls Who Code club, Rodriguez served as a special guest speaker for the Office of Student Life and Engagement's Leadership Discovery Luncheon series last spring. Rodriguez spoke to students at the Georgia Cyber Center with a fitting presentation about how to "Make Meaningful Contributions."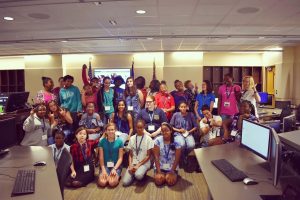 Augusta University is grateful to Rodriguez and her dedicated service to helping garner more excitement for women to pursue STEM fields.
Girls Who Code is open to girls in sixth-12th grades and meets on Monday evenings on the Summerville Campus of Augusta University. Club meetings are free for interested girls who apply to be a part of that year's cohort. For more information about Girls Who Code, please email codehoppers@augusta.edu.
If you find Rodriguez's story inspiring and would like to find out how you can give back to Augusta University, please contact the Office of Volunteer Services and Community Engagement.
Michaela Martinez from the Office of Volunteer Services and Community Engagement contributed to this article.