The Georgia War Veterans Nursing Home will hold its annual Memorial Day Ceremony to honor its residents and others who have served this country at 9 a.m. Monday, May 30 in the facility courtyard.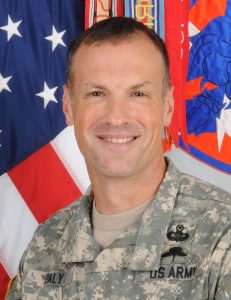 Colonel Charles P. Daly, a highly decorated U.S. Army veteran with nearly 25 years of service, including a post in the Special Missions Command for the White House Communications Agency at Camp David, will give remarks. Currently at Fort Gordon, Daly holds a Master of Arts degree in National Security and Strategic Studies from both the Navy War College and the Army War College.
Fort Gordon's U.S. Army Signal Corps Band and the Post Ceremonial Detachment Color Guard also will participate in the public ceremony.
For more information, contact Liz Bodiford, at 706-721-2531 or ebodiford@augusta.edu.
For nearly 50 years the Georgia War Veterans Nursing Home has served the veteran community with a strong emphasis on the individual needs of each veteran. The facility, affectionately known as "The Blue Goose," is owned by the Georgia Department of Veterans Service and operated by Augusta University and its health system.