Georgia War Veterans Nursing Home has announced the retirement of longtime medical director Dr. Nidhi K. Gulati, who will leave her post at the end of March. Her replacement will be announced at a later date.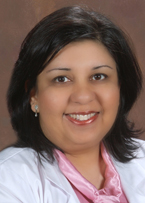 She has worked at Georgia War for 20 years and is also a faculty member in the Department of Family Medicine at the Medical College of Georgia at Augusta University.
"Dr. Gulati has been an integral part of our leadership team here for 20-plus years, providing exceptional clinical care to Georgia's veterans year after year," said Carlton Deese, executive director of Georgia War. "She has been a constant in serving our veterans and their families, helping to ensure sound quality care and a comfortable environment to call home."
Over the years, Gulati has helped the organization earn the Joint Commission's Gold Seal of Approval and multiple deficiency-free surveys by the U.S. Department of Veterans Affairs and the Georgia Department of Community Health.
As medical director, she has also helped the organization earn Best in Class Honors nationally from Pinnacle Quality Insight for the past five years.
As a faculty member in the Department of Family Medicine, she has helped the facility to become a premier teaching center, partnering with the various colleges and departments throughout Augusta University and contributing to the tripartite mission.
"I would like to take this opportunity to thank the entire Georgia War family, residents, families, students, staff/administration, GDVS, and AU's Department of Family Medicine for decades of meaningful opportunities and experiences in my role as medical director here," Gulati said. "I have found my time here to represent a true honor: to be able to serve the very men and women who have served this great country in the armed forces. It has been an honor, a privilege, and the very best part of my career that I will cherish always."
Deese added, "We are proud of her accomplishments and very thankful for her contributions to Augusta University and our nation's heroes."