Charles Esposito served as executive director for 32 years
After 32 years of service as executive director of the Georgia War Veterans Nursing Home, Charles Esposito will retire Oct. 1.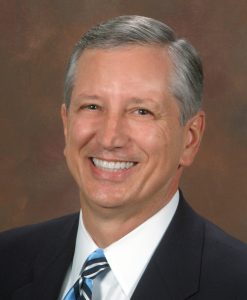 "Charles Esposito has been a constant in serving our veterans and providing them with a safe, comfortable place to call home for decades. We are proud of his accomplishments in making Georgia War a leader in quality care and a haven for the men and women who fought for this great nation," said Lee Ann Liska, chief executive officer of Augusta University Medical Center.
"At Georgia War Veterans Nursing Home, students pursuing clinical professions are given the special privilege of caring for war veterans, and under Charles' leadership, it has become a premiere teaching center," said Augusta University President Brooks Keel. "He will surely be missed by the university community as a whole and especially by the veterans and families he has honorably served."
The 192-bed Georgia War Veterans Nursing Home provides long-term skilled nursing care to chronically ill veterans of Georgia who have served in the armed forces during war times. It is owned and funded by the Georgia Department of Veterans Service and operated by Augusta University and its health system through a joint agreement with the Board of Regents.
Esposito, who joined Georgia War Veterans Nursing Home in 1985, was instrumental in the addition of the Courtyard in 1987, an outdoor roundabout adjacent to 15th Street with flower gardens, trees and an arbor that serves as a picturesque backdrop for the annual Memorial and Veterans Day services, as well as other special events. He recently initiated a floor-by-floor renovation project to transform all the resident rooms in the five-story building to a more patient-centric environment.
Additionally, under the leadership of Esposito, Georgia War has been ranked among America's top 15 percent of senior health care providers for patient satisfaction and is considered a leader in the area of geriatric care training. In fiscal year 2016, the nursing home provided 57,944 days of care to Georgia's veterans with an average age of 83.
"Georgia War has been a huge part of my life, and I'm proud of our accomplishments," said Esposito. "From constructing the Courtyard when I first arrived to making Georgia War one of the premiere teaching nursing homes with some of the highest patient satisfaction scores in the nation, I am appreciative and grateful to everyone involved. It has been my honor to serve our veterans and 'The Blue Goose.' "
Esposito is a long-time Fellow of the American College of Healthcare Executives and a former board member of the Georgia Health Care Association. He is a graduate of Leadership Augusta and Leadership Georgia and has been active in various community organizations over the years, including United Way of the CSRA, the American Heart Association and Kiwanis Club of Augusta.
A search for his replacement will begin soon.