After 40 years of service to America's veterans, Mary Jo McDonald has retired from her position as assistant director of nursing at Georgia War Veterans Nursing Home. Stephanie Nichols, nurse manager at the 192-bed facility since 2008, has been named the new assistant director of nursing.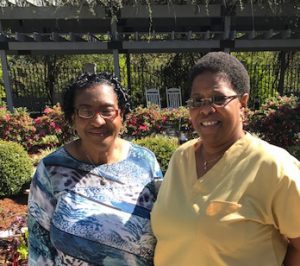 Georgia War Veterans Nursing Home provides long-term skilled nursing care to chronically ill veterans of Georgia who have served in the armed forces during war times. It is owned and funded by the Georgia Department of Veterans Service and operated by Augusta University and its health system through a joint agreement with the Board of Regents.
McDonald, a native of Montezuma, Ga., began her career at Georgia War in 1978 as a staff nurse on the fifth floor. In 1997, she became the first nurse educator at the veterans home, a position she held for 15 years. McDonald was next promoted to nurse manager and began collaborating with Augusta Technical College to provide clinical training for the school's CNA, unit clerk, and LPN students and with Augusta University (then Medical College of Georgia) for RN, respiratory, and PA students, as well as Tendercare Training school for CNA students.
McDonald also helped develop routine CPR instruction and a Fall Scene Investigation team, which was a milestone in veteran patient safety at the time.  She was promoted to assistant director of nursing in April 2012 and held this position until she retired in October – about the same time as former executive director Charles Esposito.
"Mary Jo has done a remarkable job serving our veterans and the nursing department here at Georgia War," said Carlton Deese, executive director. "We wish her the best upon her well-deserved retirement."
Nichols, a native of Cincinatti, Ohio, relocated to Augusta in 2002 with her husband Billy Nichols, the medical director with Georgia Correctional HealthCare. She served as a staff nurse at AU Medical Center through 2007 when she became a nurse manager at GeorgiaWar Veterans Nursing Home.
A registered nurse with 32 years of experience, Nichols has cared for patients in both acute care and nursing care settings. She has also worked in medical-surgical, emergency medicine, telemetry and peritoneal dialysis units. Her son is currently enrolled in the graduate program at Augusta University, and her daughter is a senior at Armstrong State University.
"I look forward to the challenges of my new role and will strive to ensure that quality patient-centered care is provided to all our veterans," Nichols said.
"We are excited to have Stephanie join our leadership team, and I'm confident that she will do great things," Deese said.